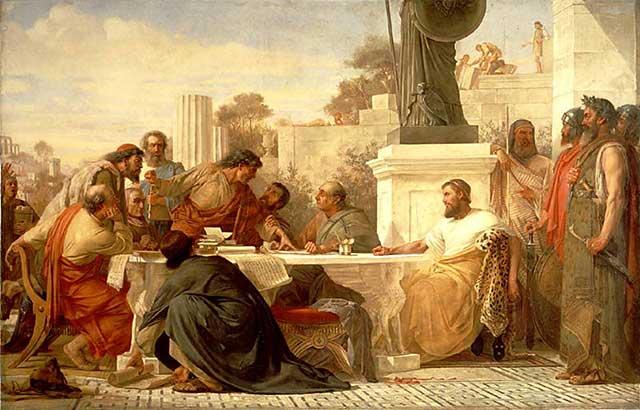 Julian presiding at a conference of Sectarians
(Edward Armitage, 1875)
Priscus:
Interesting to observe Maximus in action. He was clever. I would have guessed that at their first meeting he would have done tricks. Made the statue of Cybele dance. Something like that. But no. He gives a shrewd attack on Christianity. Then he offers Julian Mithras, a religion bound to appeal to our hero. Mithras was always the favourite deity of Roman emperors, and of many soldiers to this day. Also, Maximus knew that he would be sure of a special relationship to Julian if he were the one who sponsored him during the rites.
There is now no doubt in my mind that at this point in Julian's life almost any of the mystery cults would have got him free of Christianity. He was eager to make the break. Yet it is hard to say quite why, since his mind tended to magic and superstition in precisely the same way the Christian mind does. Admittedly their worship of corpses did not appeal to him, but he was later to find manifestations of "the One" in even order places. Had Julian been what he thought he was—a philosopher in the tradition of Plato—one might have understood his dislike of the Christian nonsense. He would have been like you and me. But Julian was concerned, finally, with the idea of personal immortality, the one obsession Christians share with those who are drawn to the old mystery cults.
Despite everything Julian wrote on the subject, I have never understood precisely why he turned against the religion of his family. After all, Christianity offered him nearly everything he needed. If he wanted to partake symbolically of the body of a god, why not remain with the Christians and eat their bread and drink their wine instead of reverting to the bread and wine of Mithras? It is not as if there was anything lacking in Christianity. The Christians have slyly incorporated most of the popular elements of Mithras and Demeter and Dionysus into their own rites. Modern Christianity is an encyclopaedia of traditional superstition.
I suspect the origin of Julian's disaffection is in his family. Constantius was a passionate Christian, absorbed by doctrinal disputes. With good reason, Julian hated Constantius. Therefore, he hated Christianity. This puts the matter far too simply, yet I always tend to the obvious view of things since it is usually the correct one, though of course one can never get to the bottom of anything so mysterious as another man's character, and there is a mystery here.
Julian was Christian in everything except his tolerance of others. He was what the Christians would call a saint. Yet he swung fiercely away from the one religion which suited him perfectly, preferring its eclectic origins, which he then tried to systematize into a new combination quite as ridiculous as the synthesis he had rejected. It is a strange business and there is no satisfactory explanation for Julian's behaviour. Of course he claimed that Bishop George's partisanship disgusted him as a boy, and that Porphyry and Plotinus opened his eyes to the absurdity of Christian claims. Well and good. But then why turn to something equally absurd?
Granted, no educated man can accept the idea of a Jewish rebel as god. But having rejected that myth, how can one then believe that the Persian hero-god Mithras was born of light striking rock, on December 25th, with shepherds watching his birth? (I am told that the Christians have just added those shepherds to the birth of Jesus.) Or that Mithras lived in a fig tree which fed and clothed him, that he fought with the sun's first creation, the bull, that he was dragged by it (thus symbolizing man's suffering) until the bull escaped; finally, at the command of the sun god, Mithras stabs the bull with a knife and from the beast's body come flowers, herbs, wheat; from the blood, wine; from the seed, the first man and woman.
Then Mithras is called up to heaven, after celebrating a sacramental last supper. Time's end will be a day of judgment when all will rise from their graves and evil will be destroyed while the good will live for ever in the light of the sun.
Between the Mithraic story and its Christian sequel I see no essential difference. Admittedly, the Mithraic code of conduct is more admirable than the Christian. Mithraists believe that right action is better than contemplation. They favour old-fashioned virtues like courage and self-restraint. They were the first to teach that strength is gentleness. All of this is rather better than the Christian hysteria which vacillates between murder of heretics on the one hand and a cringing rejection of this world on the other. Nor can a Mithraist be absolved of sin by a sprinkle of water. Ethically, I find Mithras the best of all the mystery cults. But it is absurd to say it is any more "true" than its competitors. When one becomes absolute about myth and magic, the result can only be madness.
Julian speaks continually of his love of Hellenism. He honestly believed he loved Plato and reasonable discourse. Actually, what he craved was what so many desire in this falling time: assurance of personal immortality. He chose to reject the Christian way for reasons which I find obscure, while settling on an equal absurdity.
Of course I am sympathetic to him. He dealt the Christians some good blows and that delighted me. But I cannot sympathize with his fear of extinction. Why is it so important to continue after death? We never question the demonstrable fact that before birth we did not exist, so why should we fear becoming once more what we were to begin with? I am in no hurry to depart. But I look on nothing as just that: no thing. How can one fear no thing?
As for the various ceremonies and trials the Mithraic initiate must undergo, the less said the better. I understand that one of the twelve tortures is the pulling out one by one of the pubic hairs, a most spiritual discipline. I was also told that part of the ceremonies are conducted while everyone is roaring drunk and trying to jump over ditches blindfolded, a symbol no doubt of the bewildering life of the flesh. But men are impressed by secret rites, the more gruesome and repellent the better. How sad we are, how terrified to be men!
Libanius:
It is not often one finds a philosopher so entirely lacking in the religious sense. It is like being born unable to perceive colours which are plain to everyone else. Priscus does have a logical mind and a precise way of stating things, but he is blind to what truly matters. Like Julian, I was admitted to the Mithraic rites during my student days. The impression the mysteries made on me was profound, though I confess that the effect was not as revealing—for me—as it was for Julian. But I had never been a Christian, so I was not making a dramatic and dangerous break with the world I belonged to. However, for Julian it was a brave thing to do. Had Constantius learned of what he had done, it might have cost him his life. Fortunately, Maximus managed the affair so skilfully that Constantius never knew that at the age of nineteen his cousin ceased to be a Christian, in a cave beneath Mount Pion.
Priscus seems to have missed the point of the Mithraic mysteries, which does not surprise me. Priscus applauds our high ethical standards. We are grateful to him. But he finds the rites "repellent". Of course he knows about them only by hearsay, since no one who has been initiated may recount what happens in the cave. But though the "trials" are often disagreeable, the revelation is worth all the pain that one has borne. I for one cannot imagine a world without Mithras.
Priscus observes with his usual harsh candour that the Christians are gradually absorbing various aspects of the cult. A thought suddenly occurs to me: might not this be the way in which we finally conquer? Is it not possible that the absorber will become so like the absorbed that in time they will be us?