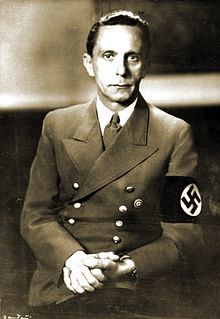 by Joseph Goebbels
The following excerpt from "Hail Moscow!" was
published in Der Angriff, 21 November 1927.
We have it prophesied a hundred times. If the Jews speak, the people must beware. The Jew is rootless, a ferment of decomposition. Whether he lives as a capitalist or a Bolshevist, his nature remains the same: Ahasver, the eternal destroyer. His gospel is chaos, and where he succeeds in fomenting revolution, he rises to the top. He brought the worker's movement to its present deplorable state: a mixture of phrases, cowardice, terror and class hatred.
Why shout "China for the Chinese," yet stand by in cowardice as the Jews sell Germany piece by piece and turn it over to the world dictatorship? You cry "Reaction" when one speaks of a lost fatherland.