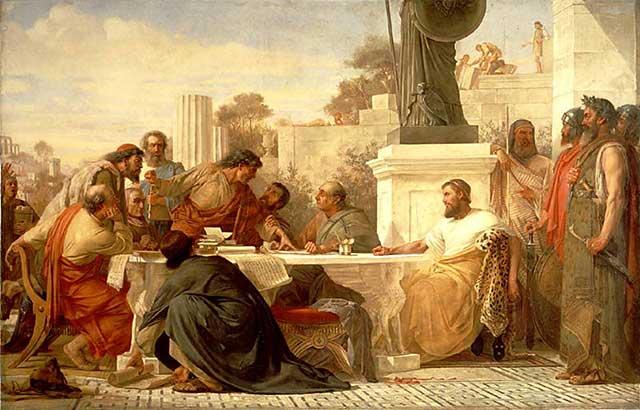 Julian presiding at a conference of Sectarians
(Edward Armitage, 1875)

Priscus to Libanius
Athens, June 380
I send you by my pupil Glaucon something less than half of the Emperor Julian's memoir. It cost me exactly thirty solidi to have this much copied. On receipt of the remaining fifty solidi I shall send you the rest of the book. I can only assume that the copying you had done in Athens last summer was the work of an admirer who gave you a cut price as a sign of his esteem for your high contributions to philosophy and rhetoric.
I do not share your pessimism about the new Emperor. He is hardly what we would have picked had the choice been ours, but then the choice never has been ours. Julian's accession was the work of Fortune, a deity notable for her absence in human affairs. We can hardly hope to have another Julian in our lifetime. And that is that.
I have studied the edict since I wrote you last, and though it is somewhat sterner in tone than Constantine's, I suspect the only immediate victims will be those Christians who follow Arius. But I may be mistaken. I almost always am in political matters, a weakness no doubt of the philosophic temperament.
However, what does give me hope was last year's appointment of the "poet" Ausonius as consul. Do you know him? I am sure you've read him. If not, you have a treat in store. I have lately become rather an expert on his career. He started life as the son of a well-to-do doctor in Bordeaux. His phenomenal luck began when the Emperor Valentinian made him tutor to his son Gratian. As Ausonius himself puts it, he "moulded the tiny mind of the infant prince".
When the prince became emperor, he rewarded his old tutor by making him praetorian prefect of Gaul as well as consul for last year. I mention all this because Ausonius is inclined favourably to us, and he exerts a considerable influence not only on Gratian (who is far too busy hunting wild boar in Gaul to distress us unduly) but on Theodosius as well. He is obviously the man for you to cultivate.
Not long ago I sent round to the library to see what they had by Ausonius. The slave returned with a wheelbarrow full of books. Ausonius must be read to be believed! As poet, no subject is too trivial for him; as courtier, no flattery too excessive. He did write one passable nature poem on the Moselle, but I'm not keen on rivers. The rest of his work is quite marvellous in its tedium. Particularly those verses he wrote at Valentinian's request. Among the subjects chosen by the Emperor were the source of the Danube (Ausonius did not locate it but he made a good try), Easter, and (best of all) four odes to the Emperor's four favourite horses.
I had one of these equine odes copied out and Hippia reads it to me whenever I am depressed. It begins "Oh raven steed, whose fortune it is to spread the golden thighs and Mars-like firm convexities of divine Augustus…" I don't know when I have enjoyed a poem so much.
I'll enclose a copy. Anyway, I suggest you see Ausonius as soon as possible. And of course you will remember to express admiration for his work! In a good cause hypocrisy becomes virtue.
I never go to evening parties. The quarter I referred to in my letter was not the elegant street of Sardes but the quarter of the prostitutes near the agora. I don't go to parties because I detest talking-women, especially our Athenian ladies who see themselves as heiresses to the age of Pericles. Their conversation is hopelessly pretentious and artificial. Their dinners are inedible, and for some reason they all tend to be rather squat with dark vestigial moustaches; no doubt Aphrodite's revenge on the talking-woman.
I live very quietly at home with an occasional visit to the quarter. Hippia and I get along rather better than we used to. Much of her charm for me has been her lifelong dislike of literature. She talks about servants and food and relatives, and I find her restful. Also, I have in the house a Gothic girl, bought when she was eleven. She is now a beautiful woman, tall and well made, with eyes grey as Athena's.
She never talks. Eventually I shall buy her a husband and free them both as a reward for her serene acceptance of my attentions, which delight her far less than they do me. But that is often the case with the feminine half of Plato's ugliest beast. But then Plato disliked sexual intercourse between men and women. We tend of course to think of Plato as divine, but I am afraid he was rather like our old friend Iphicles, whose passion for youths has become so outrageous that he now lives day and night in the baths, where the boys call him the queen of philosophy.
I am sorry to hear that your health grows worse but that is to be expected at our age. The rash you refer to does sound like bad fish. I suggest a diet of bread and water, and not much of either. On receipt of the money, I will send you the balance of the memoir. It will disturb and sadden you. I shall be curious to see how you use this material. Hippia joins me in wishing for your good—or should I say better?—health.
You will note in the memoir that Julian invariably refers to the Christians as "Galileans" and to their churches as "charnel houses", this last a dig at their somewhat necrophile passion for the relics of dead men. I think it might be a good idea to alter the text, and reconvert those charnel houses into churches and those Galileans into Christians. Never offend an enemy in a small way.
Here and there in the text, I have made marginal notes. I hope you won't find them too irrelevant.