Era of enlightenment
The development of liberalism continued throughout the 18th century with the burgeoning Enlightenment ideals of the era. This was a period of profound intellectual vitality that questioned old traditions and influenced several European monarchies throughout the 18th century. In contrast to England, the French experience in the 18th century was characterized by the perpetuation of feudal payments and rights and absolutism. Ideas that challenged the status quo were often harshly repressed. Most of the philosophes of the French Enlightenment were progressive in the liberal sense and advocated the reform of the French system of government along more constitutional and liberal lines.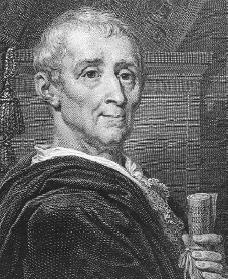 Baron de Montesquieu wrote a series of highly influential works in the early 18th century, including Persian Letters (1717) and The Spirit of the Laws (1748). The latter exerted tremendous influence, both inside and outside of France.
Montesquieu pleaded in favor of a constitutional system of government, the preservation of civil liberties and the law, and the idea that political institutions ought to reflect the social and geographical aspects of each community. In particular, he argued that political liberty required the separation of the powers of government.
Building on John Locke's Second Treatise of Government, he advocated that the executive, legislative, and judicial functions of government should be assigned to different bodies. He also emphasized the importance of a robust due process in law, including the right to a fair trial, the presumption of innocence and proportionality in the severity of punishment.
Another important figure of the French Enlightenment was Voltaire. Initially believing in the constructive role an enlightened monarch could play in improving the welfare of the people, he eventually came to a new conclusion: "It is up to us to cultivate our garden". His most polemical and ferocious attacks on intolerance and religious persecutions began to appear a few years later. Despite much persecution, Voltaire remained a courageous polemicist who indefatigably fought for civil rights—the right to a fair trial and freedom of religion—and who denounced the hypocrisies and injustices of the Ancien Régime.