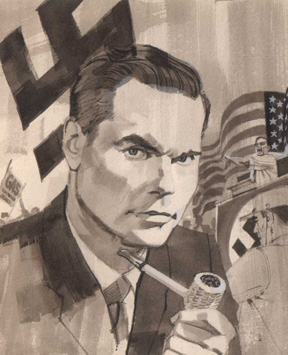 A passage from This Time the World
by George Lincoln Rockwell
But Allen's wife, Portland, gave me the shock of my fourteen or fifteen years when she was the first woman I ever heard say a filthy word—and in our living room, at that. She used the Anglo-Saxon word for body waste to express her distaste for some idea or other—and I will never forget the experience. Never, in all those young years, had I heard a female say such a word and I thought of her immediately as an object of unbelievable disgust. In discussing the matter later, with my father, I learned that she was Jewish. I asked him if Jewishness had anything to do with it and he said they were very "sophisticated people" who meant no harm by it. But he also told me of Henry Ford's accusations against the Jews and how they forced him to apologize, and said there was no getting away from the power of the Jews, "They're too smart."
Except for the permanent memory of my shock at hearing that awful word from a lady in our family drawing room, I thought no more of it and don't even remember thinking of Portland as anything but a woman who said a horrible, vulgar word for the first time in my presence.
I know the Jews and 'liberals' and Freudians will once again leap like trout to the fly here, and be sure this is the source of my 'hatred' of Jews. But it is simply not true. I assimilated this experience with millions of others and did not even notice whether the hundreds of Jews in Atlantic City High School, where I went for four years and many of whom were my best friends, were Jews or Hottentots. That may be an unfortunate choice of words, because hundreds of my school comrades in Atlantic City were Hottentots! And I didn't particularly notice or care about this either.
The Jews simply cannot accept it, of course and the brainwashed will not accept it, but my hatred of organized Jewry stems directly and only from the discovery of what most—but not all—Jews are doing to the Nation and the People I love. There may have been some slight vestiges of prejudice in my upbringing, but no more than in the upbringing of millions of other American boys who are not leading Hitler movements.