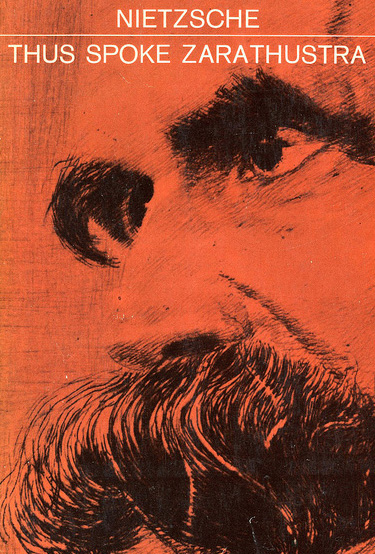 Revilo Oliver's texts on Aryan ethnosuicide and the need to create a religion of hate have moved me to translate some explanatory notes of Thus Spoke Zarathustra at the bottom of this entry (see also my first post in the comments section).


6
Then, however, something happened that struck every mouth silent and forced all eyes to stare. For in the meantime the tightrope walker had begun his work; he had emerged from a little door and was walking across the rope stretched between two towers, such that it hung suspended over the market place and the people. Just as he was at the midpoint of his way, the little door opened once again and a colorful fellow resembling a jester leaped forth and hurried after the first man with quick steps.
"Forward, sloth, smuggler, pale face! Or I'll tickle you with my heel! What business have you here between the towers? You belong in the tower, you should be locked away in the tower, for you block the way for one who is better than you!"
And with each word he came closer and closer to him. But when he was only one step behind him, the terrifying thing occurred that struck every mouth silent and forced all eyes to stare: – he let out a yell like a devil and leaped over the man who was in his way. This man, seeing his rival triumph in this manner, lost his head and the rope. He threw away his pole and plunged into the depths even faster than his pole, like a whirlwind of arms and legs. The market place and the people resembled the sea when a storm charges in: everyone fled apart and into one another, and especially in the spot where the body had to impact.
But Zarathustra stood still and the body landed right beside him, badly beaten and broken, but not yet dead. After a while the shattered man regained consciousness and saw Zarathustra kneeling beside him. "What are you doing here?" he said finally. "I've known for a long time that the devil would trip me up. Now he is going to drag me off to hell: are you going to stop him?"
"By my honor, friend!" answered Zarathustra. "All that you are talking about does not exist. There is no devil and no hell. Your soul will be dead even sooner than your body[1] – fear no more!"
The man looked up mistrustfully. "If you speak the truth," he said, "then I lose nothing when I lose my life. I am not much more than an animal that has been taught to dance by blows and little treats."
"Not at all," said Zarathustra. "You made your vocation out of danger, and there is nothing contemptible about that. Now you perish of your vocation, and for that I will bury you with my own hands."
When Zarathustra said this the dying man answered no more, but he moved his hand as if seeking Zarathustra's hand in gratitude. –
______________________
The above German-English translation by Adrian del Caro is taken from Thus Spoke Zarathustra (Cambridge University Press, 2006). This Cambridge edition lacks the more detailed notes by Andrés Sánchez-Pascual in Así Habló Zaratustra (Madrid: Alianza Editorial, 2014), translated here.
Note:
[1] A development of this idea can be seen in this first part, "On the Despisers of the Body" and in the third part, "The Convalescent" §2: "Souls are as mortal as bodies."