"Why were you so ungrateful to our gods
as to desert them for the Jews?"
—Julian, addressing the Christians
The Memoir of Julian Augustus
I arrived at Piraeus, the port of Athens, shortly after sunrise 5 August 355. I remember every one of the forty-seven days I spent in Athens. They were the happiest days of my life, so far.
I engaged a cart and driver after considerable haggling (I was able to bring the driver's cost down to half what he asked: good but not marvelous). Then I climbed into the little cart. Half standing, half sitting on the cart rail, I was borne over the rutted road to Athens.
The sun rose in a cloudless sky. Attic clarity is not just a metaphor; it is a fact. The sky's blue was painful.
My first reaction was delight at anonymity. No one stared at me. No one knew who I was. I looked a typical student with my beard and plain cloak. There were dozens like me. Some were in carts, most were on foot; all of them moving toward the same goal: Athens and the knowledge of the true.
On every side of me carts rattled and creaked, their drivers cursing and their contents, human or animal, complaining. The Athenian Greek is a lively fellow, though one looks in vain from face to face for a glimpse of Pericles or Alcibiades. As a race, they are much changed. They are no longer noble. They have been too often enslaved, and their blood mixed with that of barbarians.
[Chechar's note: See Pierce's take on this subject]
The Dipylon Gate was as busy in the early morning as any other great city's gate might have been at noon. It is a double gate, as its name indicates, with two tall towers on the outside. Guards lolled in front, paying no attention to the carts and pedestrians who came and went. As we passed through the outer gate, our cart was suddenly surrounded by whores. Twenty or thirty women and girls of all ages rushed out of the shadows of the wall. They fought with one another to get close to the cart. They tugged at my cloak. They called me "Billy Goat," "Pan," "Satyr," and other less endearing terms.
With the skill of an acrobat one pretty child of fourteen vaulted the railing of my cart and firmly grasped my beard in her fist. The soldiers laughed at my discomfort. With some effort I pried my beard from her fingers, but not before her other hand had reached between my legs, to the delight of those watching. But the driver was expert at handling these girls. With a delicate flick of his whip, he snapped at the hand. It was withdrawn with a cry. She leapt to the ground. The other women jeered us. Their curses were splendid, Homeric!
I arranged my tunic. The sharp tug of the girl's hand had had its effect upon me, and against my will I thought of lovemaking and wondered where the best girls in Athens might be found. I was not then, as I am now, celibate. Yet even in those days I believed that it was virtuous to mortify the flesh, for it is a fact that conscience increases intellectual clarity. But I was also twenty-three years old and the flesh made demands on me in a way that the mind could not control.
Youth is the body's time. Not a day passed in those days that I did not experience lust. Not a week passed that I did not assuage that lust. But I do not agree with those Dionysians who maintain that the sexual act draws men closer to the One God. If anything, it takes a man away from God, for in the act he is blind and thoughtless, no more than an animal engaged in the ceremony of creation. Yet to each stage of one's life certain things are suitable and for a few weeks, eight years ago, I was young, and knew many girls. Even now in this hot Asiatic night, I recall with unease that brilliant time, and think of lovemaking. I notice that my secretary is blushing. Yet he is Greek!
♣
The driver indicated a large ruin to the right. "Hadrian," he said. "Hadrian Augustus." Like all travelers, I am used to hearing guides refer to my famous predecessor. Even after two centuries he is the only emperor every man has heard of—because of his constant traveling, his continuous building and, sad to say, his ridiculous passion for the boy Antinoüs. I suppose that it is natural enough to like boys but it is not natural or seemly to love anyone with the excessive and undignified passion that Hadrian showed for Antinoüs. Fortunately, the boy was murdered before Hadrian could make him his heir. But in his grief Hadrian made himself and the Genius of Rome look absurd. He set up thousands of statues and dedicated innumerable temples to the dead boy.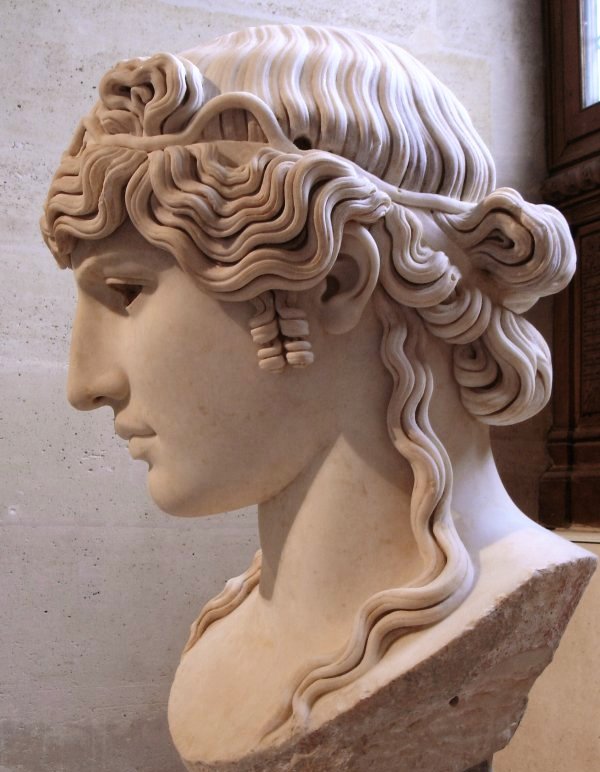 He even declared the pretty catamite a god! It was a shocking display and permanently shadows Hadrian's fame. For the first time in history, a Roman emperor was mocked and thought ridiculous. Yet except for this one lapse, I find Hadrian a sympathetic figure.