" Must-See TV"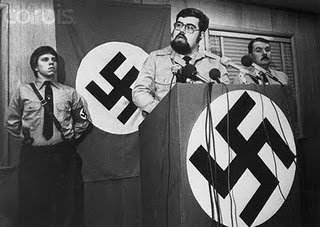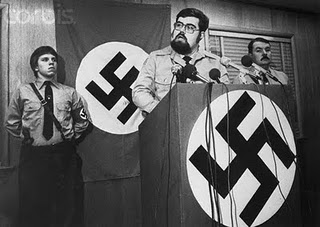 "No matter what happens to us, tonight or from now on, we have written indelibly into the history books that at least some white men finally revolted after a century of oppression and insult, and that our race did not go gentle into that good night. We've shattered so many politically correct myths over the past two years I can't even count'em. And I'll tell you this much, Erica. We may not have the power to remake the world in our image, or even to grab back the small part of it we're demanding of these bastards. But we can make bloody well sure they can't create their Brave New World either, with no race, no culture, no God, no identity, nothing to live and die for except bloody money and mindless recreation. If it can't be the white man's world ever again, by God, it will never belong to the Jews!" He saw she was looking at him strangely. "Sorry. Got up on me soapbox there for a bit."
"No, I'm riveted, actually," she said earnestly. "Look, Mr. Dundee, or Mick, or whatever your name really is, I have to admit, all this is a bit freaky for me, but not in a bad way. I was listening to you just then, and all of a sudden it hit me that in all my life, I've never known a man, a real man, of my own race."
"What about Chase?" he asked her.
"Chase was kind, and gentle, and supportive, and creative, and funny, and a great kisser, among other things."
"Those aren't at all bad qualities for a man to have, you know," Randall reminded her gently. "Sounds to me like you could have done a lot worse."
"Yes, I know, but that's all he was," said Erica. "It's like that with so many otherwise fine white males today. It's like half of them is missing. The hard half, the strong half, that once led our race to conquer almost all the world, to make the world the way it is today. The strength, the courage, the ruggedness, the will to power and to overcome obstacles that our people once had is gone now."
"The Old Man calls it the alpha gene," said Randall.
"Yeah, well, it seems to have gone missing in white males these days. It's like we've just given up and accepted our own end."
♣
"I'm in place," he told the rest of them.
In the Hollywood Royale's Suite 1401, Cat-Eyes Lockhart said, "We're on our way," and slipped the radio into his back pocket. "Right, let's go." The six Volunteers left the suite, all wearing identical black and white tuxedos and wearing festive costume party masks, each lugging a heavy canvas gym bag.
"We're set," he told Randall in a tense voice.
Cat took up a position on the right side of the projector, and Kicky to the left. Cat took out an extra 20-round magazine for his M-21, containing normal copper-jacketed rounds, and checked to make sure that the magazine in his weapon indeed contained the special exploding lead bullets. There was a delay of ten seconds or so, which seemed very long, and then he heard Kolchak's voice say, "Gold Team set."
"Red Team Leader, fire at will," came Randall's voice.
On stage the pudgy Martin Rudin and the tall, slim mulatto Nat Turner Thomas, elegant in their tuxedos, approached the podium, hand in hand. They each embraced a smiling Erica and gave her a kiss on the cheek as she handed them the gold Oscar statuette. Marty Rudin began to speak. "It's no secret that The Color of Love is largely autobiographical, the story of how my beloved partner Nat and myself were able to overcome a racist society's hurdles, not just one, but the triple prejudices of racism, anti-Semitism, and homophobia…"
"Nat, I couldn't have done it without you," blubbered an overcome Rudin down on the stage. "I couldn't have done any of it without you." The two men leaned over and gave each other a long, tongue-slurping French kiss. There was a sigh of "Awwww…" and a scattering of applause from the audience.
The two kissing men's heads exploded like watermelons, a single bullet virtually decapitating both of them. Erica Collingwood's mouth opened in a single long scream of pure terror, a scream heard around the world and immortalized for all time. She seemed to faint and dropped to the floor. Then all hell broke loose.
The Kodak Theater was originally designed as an operatic and concert house, and the acoustics were widely and justly acclaimed to be the best in the world, second only to the Sydney Opera House. The ribbed and shaped steel bands running from floor to high domed ceiling along the oval walls could magnify and reverberate the sound of a coin being dropped on stage.
The noise that filled the theater now passed any description that might convey the reality of it to anyone who was not there. The subsequent millions of replays of the videos from all angles were filled with the madness and the terror and the death and the blood, but could never adequately convey the sound of the gunfire that roared down from the sky, rolling in waves from the ceiling and the walls. One survivor described it as being "trapped inside an endless clap of thunder." The first grenades flew down from the projection booths, bounced and rolled along the floor, then detonated and hurtled fragments of wood and metal from chairs and tables, and human body parts. Several people were blown into the air, whirling like rag dolls in a tornado. Men and women screamed and scrambled and ran and hid, trampled and fought one another to get to the exits while a rain of death poured among them, rifle and submachine-gun fire, cutting them down and sending them flopping and gushing blood down to the floor.
After maybe ten seconds, Kicky and Cat heard pops from the theater floor and heard the slap of pistol bullets slamming into the wall around the projection booth. The security guards, the bodyguards, and the cops were firing back at them. One bullet shattered the lens of the projector, showering them with powdered glass. A second clanged into the metal body of the projector and rang deafeningly. "The bells, the bells!" moaned Lockhart in a Hunchback of Notre Dame imitation, grinning maniacally at Kicky, who screamed with adrenalin-fueled laughter, blazing away with her submachine gun. Still firing, Cat yelled "Grenade!" and Kicky threw her second one, then returned to spraying bullets at anything that moved, slapping empty magazines out onto the floor and full ones into the weapon. The grenade exploded with a whump that made the building shake, and maybe five seconds later the fourth grenade from the other projection booth detonated as well.
In one way it was an endless time, and in another way it was but the flash of a moment until Cat ripped the empty magazine out of his M-21, slapped in the next one, and laid it on the bullet-scarred ledge, and yelled, "That's twenty rounds, and we're outta here!" Kolchak and Washburn were still firing into the shrieking, undulating mass of bodies down in the theater. Out in the corridor, heavy-set Jewish men, some in yarmulkes, all in tuxedos, had come charging out the doors of the private boxes dragging women in expensive gowns, mostly young and blonde, as they tried to escape. Jimmy Wingowas waiting for them, crouching behind the corner of the entranceway, and with short, well aimed bursts he cut them all down. Not one made it to the stairs. Cat and Kicky came out of the projection room. "Let me go first," said Wingo, and they pelted down the corridor after him. Just as they reached the stairwell the door opened and a Centurion guard popped out, pistol in his hand. Wingo chopped him down with the AK. A bullet screamed by them and slapped into the wall. Kicky turned and blazed away with the HK at a couple of guards who were stumbling along the corridor behind them, hitting one of them and dropping him. The other turned and fled. They crashed down the stairs and Wingo machine gunned another Centurion guard who was on his way up.
A woman screamed as the Volunteers came out of the stairwell in their ski masks. Wingo spotted a Mexican security guard and splattered him against the wall with a burst of the Kalashnikov.
♣
The day after the Oscar Night Massacre, the following casualty list appeared on the front page of a black-bordered edition of the Los Angeles Times. In addition to the dead listed here, over two hundred people were wounded by bullets and flying shrapnel, and also from being trampled in the stampede to escape. The L.A. Times list was subsequently posted to the internet on a satiric Web site called insidetinseltown.com, with certain pointed and irreverent commentary added. The day after it was posted, the site was shut down and the webmaster arrested under the Patriot Act. He has never been seen since. But this did not occur before the site was mirrored all across the World Wide Web:
Adelstein, Jeremy (34)—Jewish. Scriptwriter for six major television sitcoms on two networks. Faked mental illness to evade draft.
Adler, Allen (41)—Jewish. Senior vice president in charge of marketing, Paradigm Studios. Gothis start making porno in Mexico.
Baylor, Amber (30)—White. Nominated for Best Supporting Actress for portrayal of tough female FBI agent hunting evil white racists in the Pacific Northwest. Married to Israeli independent producer and director Avrohom Stern.
Bernstein, Arthur (45)—Jewish. Prominent director, recipient of two Lifetime Achievement Academy Awards and two Best Directors. Slated to direct Great White North for World Artists. Indicted for insurance fraud and tax evasion. Charges dropped.
Borenstein, Albert (50)—Jewish. Senior Vice President In Charge of Production, World Artists. Several complaints of physical and sexual abuse by multiple wives dropped through unknown influence.
Cochran, Mark (44)—White. Married, no children. Nominee for Best Special Effects for The Return of the Zoid.
Cohen, Harry (23)—Jewish. Actor. Star of television sitcom The Rabbi and Me wherein Cohen plays feckless high school kid who solves mysteries with the help of a wise old rabbi, crimes that always originate with evil white racists or Muslims. Charges of obtaining a false medical exemption from the draft dropped, influence of Sid Glick.
Cohen, Todd (36)—Jewish. Casting director, Paradigm Studios. Subject of repeated sexual harassment suits from aspiring actresses and studio employees.
Colbert, Kaneisha (24)—Mulatto. Actress. Nominated for Best Supporting Actress for her role as a Strong Womyn African-American freedom fighter in the epic Southern anti-slavery movie Eagleton Plantation, for which she had already received the Best Actress award from the Black Film Actors' Guild. Ms. Colbert was not shot, but trampled to death by her fellow glitterati trying to escape.
Concasseur, Ti-Jean (35)—Black. Centurion security officer. Former UN-trained Haitian police officer, former Port-au-Prince gangster and enforcer for outlawed Lavalas party.
Daniels, Ray (42)—White. Actor. Nominated for Best Actor for Let's Go Home, wherein Vietnam vet returns to reunite with his Saigon bar-girl lover and his mixed-race child and fights against the Communists and then wicked racist American immigration law to bring them into the United States.
Dickstein, Morris (39)—Jewish. Golden Globe award-winning actor and stand-up comedian. Chairman of the Hollywood-Israel Friendship Society.
Fiegenbaum, Yossele (70)—Jewish. President, MGM Studios. Member of Anti-Defamation League's national Board of Directors.
Franken, Andrea (38)—Jewish. Co-scriptwriter for Great White North.
Galvez, Ramon (28)—Hispanic. Centurion security officer.
Ganz, Allen (32)—Jewish. Head of script department at FoxFlix Productions.
Gelblum, Emmanuel (54) –Jewish. Chairman of the Board of Directors of World Artists Studios. Approved recent project Great White North. Son heroin addict. Gelblum was a shochet, a kosher slaughter man, not out of religious obligation but because he simply enjoyed killing animals.
Glick, Shlomo (53)—Jewish. Head of Mammoth Productions. Scheduled producer of Homeland.
Glick, Sidney (58)—Jewish. President, Paradigm Studios. Known as "Mr. Hollywood," Glickwas renowned as the most powerful Jew in the motion picture industry since Louis B. Mayer's time. Driving force behind Homeland project.
Goldblum, Ari (56)—Jewish. Israeli-born head of largest talent agency in Hollywood. Famed as first Hollywood manager actually to write a casting couch clause for actresses into his contracts, known as the "personal services" clause.
Goldblume, Jerry (42)—Jewish. Actor-director. Arrests for rape and stock fraud, all suppressed through the influence of Sid Glick.
Goram, Rafi (31)—Jewish. Bodyguard to Sid Glick. Ex-Israeli Mossad. Goram was wanted by the United Nations War Crimes Committee for the murder of over 100 elderly Palestinians in a nursing home burned to the ground during an Israeli army incursion into Ramallah.
Greenwood, Michelle (25)—White. "Aspiring actress" actually employed by escort service, accompanying Saul Steinberg of Twenty-First Century Fox to ceremonies that night.
Gunderson, Robert (43)—White. Bodyguard to Sid Glick. Former FBI agent. Dismissed from Bureau for selling information to Colombian drug lords.
Gutierrez, Pablo (32)—Hispanic. Hotel Royale control room guard.
Halter, Yossi (34)—Jewish. Just appointed youngest studio Vice President in history at Mammoth Productions. Reputedly blackmailed entire board of directors with six months' worth of secret surveillance tapes of their assorted sexual and financial peccadilloes. "This young man will go far," said Mammoth on announcing his appointment in the media.
Hirschfield, Albert (50)—Jewish. Editor of Variety Online.
Horowitz, Joshua (30)—Jewish. Script writer for Great White North. Had bribery arrangement with California Department of Corrections wherein he was occasionally admitted to correctional institutions and left alone with "white supremacist" inmates who were handcuffed and restrained, and allowed to beat them with a baton. It is not known whether he was ever allowed to flagellate his co-writer Andrea Franken (see above).
Hudson, Mary Anne (27)—White. "Aspiring actress" actually employed by escort agency. Accompanied Irving Kirschbaum to the ceremonies that night.
Jones, Lamont (29)—Black. Bodyguard to Yossele Fiegenbaum. Karate black belt, ex-Marine Corps. Cocaine addict.
Katz, David (52)—Jewish. Director and independent producer. Producer of Great White North. Two counts of rape dismissed through influence of persons unknown.
Kirschbaum, Irving (58)—Jewish. Producer of over seventy major motion pictures, including four Academy Awards for Best Picture and one personally for Lifetime Achievement.
Kirschner, Marion (56)—Jewish. Specialized in wise and salty Jewish mother roles, including her latest television series where she portrayed a wise-cracking Yiddishe mama who was also a federal judge, sentencing evil white racists and Muslims to prison every week. Found dead at her VIP table, face down in a bowl of her own trademark chicken soup.
Landauer, Hyman (49)—Jewish. Senior Vice President in charge of Production, World Artists studios, in charge of proposed film Great White North. Arrested in legal Nevada brothel. No charges filed.
Mandel, Peter (75)—Jewish. President of Global Studios. A raging sex maniac who once engaged in coitus with two dozen aspiring starlets in one twenty-four hour period to win a bet, one per hour, after which he fired them all and had them hounded out of town by the LAPD because "Nobody nails my leftovers."
Martinez, Rafael (26)—Hispanic. Centurion security officer.
Nussbaum, Philip (48)—Jewish. Producer and director, mostly for Paradigm. Killed three members of the Riordan family of San Diego, including two children, while driving the wrong way up an exit ramp on Interstate Five at eighty miles an hour in his Maserati, with a blood alcohol level of .16. Charges reduced to straight DUI, license suspended for ninety days.
Padilla, Juan (30)—Hispanic. Centurion security officer.
Pechter, Rabbi Leo (48)—Jewish. Southern California regional director, Anti-Defamation League of B'nai B'rith. Served as interrogator in U.S. Army, investigated by JAG for torture of Arab prisoners going even beyond the Dershowitz Protocols, quietly discharged, and immediately employed by ADL.
Ratner, Lew (54)—Jewish. "Attorney to the Stars." Main legal troubleshooter for Hollywood establishment under Generalissimo Sid Glick. Fowler was nominated for this year's awards as Best Supporting Actor for Blood on the Basket.
Robertson, Frederick (40)—White. Centurion security officer. Married, two children.
Rodriguez, Manuel (22)—Hispanic. Centurion security officer.
Rosenberg, Abe (45)—Jewish. Senior in-house legal counsel to Paradigm Studios. Found with almost a full gigabyte of child pornography on his company computer and a whole secret viewing room full of such material in his Carmel, California home. No charges filed.
Rubinstein, Jennifer (40)—Jewish. Gossip columnist and reviewer for Variety. Alleged to have driven actresses Jenny Kraft and Mila Bellarov to suicide after ruining their careers.
Rudin, Marty (36)—Jewish. Homosexual. Joint winner of Best Screenplay award for The Color of Love.
Salazar, Ramon (27)—Hispanic. Centurion security officer.
Shmulevitz, Rabbi Samuel (62)—Jewish. Director of the Simon Wiesenthal Center in Los Angeles. Personal friend of Hillary Clinton.
Stanford, Jenna (26)—White. Actress. Star of several interracial films including a Mafia version of Othello, the consensual incest movie Brother Beloved wherein a teenaged Stanford seduces her ten year-old brother, as well as engaging in one of the grottiest lesbian scenes ever filmed during the movie version of Sappho.
Steinberg, Saul (59)—Jewish. Executive vice president, Twenty-First Century Fox. Known associate of organized crime figures, suspected of money laundering, reputed to be unofficial Mossad station chief for Hollywood.
Steinfeld, Bert (43)—Jewish. Actor. Specialized in macho martial arts roles beating up on Arabs, Nazis, Frenchmen, and other villainous characters. Rifle bullet entered anus while he was crawling on floor and exited his brain.
Stern, Avrohom (63)—Jewish. Israeli independent director and producer. Imported over ten thousand black Africans from Guinea-Bissau and Senegal into Florida to use as extras for an African war movie he was making. Movie lost financing, and so Stern simply opened the compound one morning and turned the Africans loose, resulting in several dozen murders and over two hundred rapes of local residents, as well as over a thousand separate lawsuits, all of which were dismissed due to unknown influence.
Thomas, Nathan Turner (31)—Black. Homosexual. Joint winner of Best Screenplay award for The Color of Love.
Tostigsdottir, Ingrid (21)—White. Icelandic supermodel, escorting Hyman Landauer to the Oscar ceremonies.
Washington, Bo-Bo (47)—Black. Centurion security officer.
Weinberg, Bruce (54)—President, Star Crown Motion Pictures, Inc. Investigated by the SEC for securities fraud and by the DEA for allegedly arranging "in-house" narcotics supplies to his actors and executives, and collecting cut of the profits. No charges filed.
Weinstein, Abe (60)—Jewish. Senior vice president for Finance for Universe Studios. Investigated for "creatively financing" many films with laundered drug money and for statutory rape of a minor. No charges filed.
Woltz, Louis (70)—Jewish. CEO of Excelsior Studios. Multi-millionaire. In his younger days as an agent he was charged with embezzling clients' money, mail fraud, drug trafficking, and suspicion of murder when actress Jill Considine died under mysterious circumstances in her home just after filing a multi-million dollar lawsuit against Woltz to recover money he stole from her over a five-year period.