The following is my abridgement of chapter 3 of William Pierce's history of the white race, Who We Are:
World's First True Men Evolved in Europe
Did Cro-Magnon Man Equal Us?
Origin of the Family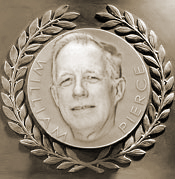 Since the use of tools required a larger brain than before, and since the birth canal had become smaller, infants had to be born in a premature state, with a relatively long period of postnatal development and growth ahead of them. This meant a long period of incapacitation for mothers, while they nursed and cared for their helpless young. And this in turn required a prolonged dependence of the female on the male.
Thus, stable male-female pairing, with the male taking the role of hunter-provider and the female the role of mother-nurse, became established in our evolutionary line hundreds of thousands of generations ago. It is what is natural for our race, in that a predisposition for it is born with us. The foolish liberals who see it as the "oppression" of women and imagine that they can abolish it with a few acts of Congress or a Constitutional amendment have not the faintest understanding of what they are tampering with.
Riss-Wuerm Interglacial. By about 150,000 years ago, in the middle of the warm Riss-Wuerm interglacial period, man's tool-making capabilities allowed him to further expand his habitat. The principal move in Europe was to the north, from the Mediterranean toward the Baltic.
The early Europeans were by this time skilled makers of stone, bone, and wooden implements. They produced sewed leather clothing and used bone- and stone-tipped spears for big-game hunting. They lived in artificial shelters heated by fire during cold weather.
When they moved north the focus of human evolution moved with them, shifting from the Atlantic and Mediterranean coastal areas of Western Europe to the great northern Eurasian plain. The cultural achievements of these northern European big-game hunters of 150,000 years ago surpassed those of all other contemporary human groups.
What were these people of the Riss-Wuerm interglacial period like? Their physical remains are, unfortunately, much scarcer than their artifacts. From Fontechevade Cave, in central France, has come some of the best evidence we have to date. Portions of two skulls dating from that period indicate a race not remarkably different from today's Europeans. Their head shape was essentially modern, without heavy brow ridges and with a cranial capacity fully as large as that of present-day White men, but with a slightly more rugged and thicker bony structure.
It is only the cultural evidence—or the lack of it—which leads one to believe that man has made some evolutionary progress during the last 150,000 years. Fontechevade Man had no art, so far as we know. He was a skilled tool maker, but he and his kind left behind only their tools and weapons: no cave paintings, no engraved decorations, no sculpture, no personal ornaments, no indications whatever of a sense of beauty or a self-consciousness highly enough developed to lead them to portray in durable form their mental image of themselves and the world around him.
More than 100,000 years passed—in which Fontechevade Man was replaced by Neanderthal Man, who in turn gave way to Cro-Magnon Man—before solid evidence appeared that man had reached a level of consciousness roughly equal to today's.
During Neanderthal times there appeared the first evidence of human self-consciousness, with human remains ritually buried instead of being left to decay where they fell. But, still, Neanderthal Man developed no art. Only with Cro-Magnon Man—who was physically at least as advanced as modern Europeans—did genuine artistic creation appear.
An End of Evolution? Cro-Magnon Man differed only slightly from Fontechevade Man in his skeletal remains, but the cultural achievements of the former are a clear indication that he had achieved a new evolutionary level.
And, in fact, Cro-Magnon Man created art of such quality and variety, revealing such sensitivity and capacity for visualization, that one may well ask whether there has been any biological progress at all in the last 30,000 years. Certainly, there has been substantial progress in social organization (until the last 200 years, at least) and in culture. And a certain amount of European subracial differentiation must have still remained to take place since Cro-Magnon times.
But whether modern man's capacity for culture (as opposed to his actual achievement) is greater than that of Cro-Magnon Man remains an open question. If a thousand modern European infants could be magically transported back 30,000 years in time, to grow up in the care of their Cro-Magnon ancestors, would they turn out to be creative geniuses, relatively speaking, or just ordinary Cro-Magnon citizens—or perhaps even sluggards? We do not know, although further findings may eventually suggest an answer.
Thus, it may be that our race had already reached, in Cro-Magnon times, a point of diminishing returns in the balance between the biological and the cultural-social aspects of evolution. The more effective man's social organizations and his technology became in shielding him from the selective pressures of his environment, the less biological progress he made from one generation to the next. Indeed, there can be no doubt at all that the race has gone backward biologically during the last few hundred years, with large portions of each generation which should have been eliminated early in life by environmental pressures surviving to reproduce.
We may, in fact, see in this phenomenon the explanation for the narrowing of the evolutionary gap between the Mongoloid and European races during the last few hundred thousand years. Europeans achieved the Homo sapiens evolutionary grade long before the Mongoloids, but the superior European technology may have been the factor which allowed the Mongoloids, evolving in a climate of similar rigor, to begin catching up. Even the much more retarded races of Africa have narrowed the evolutionary gap somewhat between themselves and Europeans in the last million years or so.
Conscious Evolution. The lesson in this is obvious: there came a point in the upward evolution of the Cosmos when the evolutionary mechanism of natural selection should have been smoothly taken over by a conscious process of artificial selection, not just on a temporary and local basis as in ancient Sparta and in National Socialist Germany, but permanently and universally. When that point came we cannot be sure, but it may have been 30,000 years ago.
It should also be clear that the way to clean up the present mess our race has gotten itself into and avoid getting into a similar mess in the future lies not in a cultural retrogression or Luddite-like suppression of, technological progress but in bringing the biological progress of the race once again into line with its cultural progress.