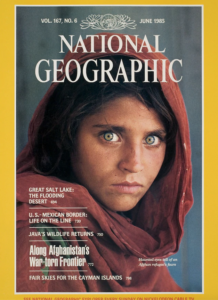 Click here
Translation of the first paragraph of the article 'Descendants of the Aryans—remains of Indo-European blood in Asia (I of IV)':
Everyone has heard of that National Geographic cover of a white, green-eyed Afghan refugee. That cover caused a sensation. Countless people offered to adopt the girl in question, and became interested in the issue of ethnic groups in the East. Today, practically anyone knows that even in the most unknown corners of deep Asia, there are remnants of European genetics.
Since the image of the Afghan refugee is broken in the PDF that I link to, I am adding that image here.