This is a comment from me that, instead of putting it in response to what commenters said in a recent discussion thread, I put it as an independent entry as the topic is central to understanding us.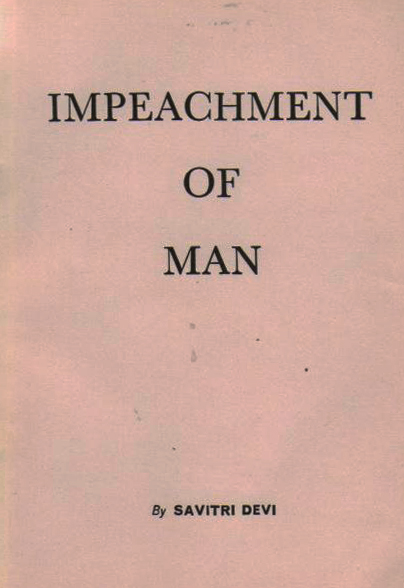 Apparently, these commenters suffer from human megalomania: that humans are superior to animals, or that humans have souls. I doubt that they have read with due attention the books of William Pierce, or Impeachment of Man by Savitri Devi. Already in January 2015 I had published an entry with the title of 'Animals', and as epigraphs I chose some words from Pierce and Hunter Wallace. The latter, as a Christian, continues to believe in the existence of the human 'soul'. But despite this he acknowledges that whites deserve to be committed to the Fruitcake Hospital:
By that standard most people are simply animals—thinking animals, but still animals, without the essence of humanity.
For those who don't believe Whites are capable of imposing this madness on themselves, I will point to France during the French Revolution which abolished slavery in the name of the "Rights of Man" and made every Negro a citizen of the French Republic.
—Hunter Wallace
He who wants to venture into why we need a lesson in humility must read Impeachment of Man. In short, much of the evil of our time is due to pride, the primordial sin that modified apes are the crown of evolution when, because of their fruitcake behaviour, they obviously are not.
Read my Day of Wrath and tell me with a straight face that humans are 'sane' or 'superior'. That does not mean that they are a lost cause, as potentially the eternal feminine could lead the white race to the Absolute, as I say in my last essay in The Fair Race (pages 652ff).