Further to my previous post today. 'The Pointy End' is the eighth episode of the first season of Game of Thrones. It is the eighth episode of the series overall among the 73 episodes aired over eight seasons from 2011 to 2019. This episode premiered on June 5, 2011 when I didn't even know that Game of Thrones existed. It was written by George R.R. Martin and directed by Daniel Minahan, who is not classified as 'Jew' at least in his Wikipedia article (the series changed directors several times).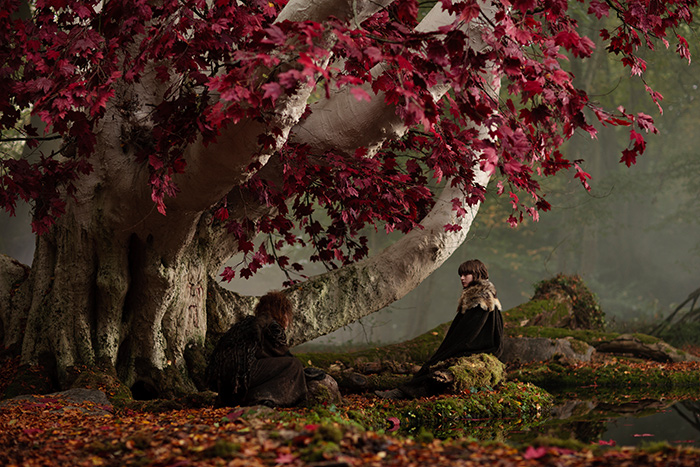 Bran the Broken, still a boy, prays by the Heart Tree when he is approached by Osha, a woman of the Free Folk or 'Wildlings' (in this pic, Osha is barely visible because she's laying on the ground). Osha tells Bran about hearing the Old Gods of the Forest and that the Wildlings also worship the Old Gods. She laments that the South has lost touch with the past, and that the southern Weirwood trees were cut down long ago and, therefore, the Southerners have no idea what's awakening in the north.
I have just watched again the scene in 'The Pointy End' when the above photograph was taken and must add something to what I said four days ago in the article 'New subtitle'. In the scene, a couple of times Osha calls the attention of Bran about the hidden message that could be heard from the gods by listening to the whispering leaves of the Heart Tree.
When four days ago I wrote 'I will leave the image of Bran in the sticky post unless I can think of a better one that symbolises this site' I had not re-watched the scene with due attention. Now I see that it resonates not only with my editorial note in my previous article today, but with the heart of my own life (cf. my book Whispering Leaves).
This day I make official the above photo as the 'logo' of this site.