by Savitri Devi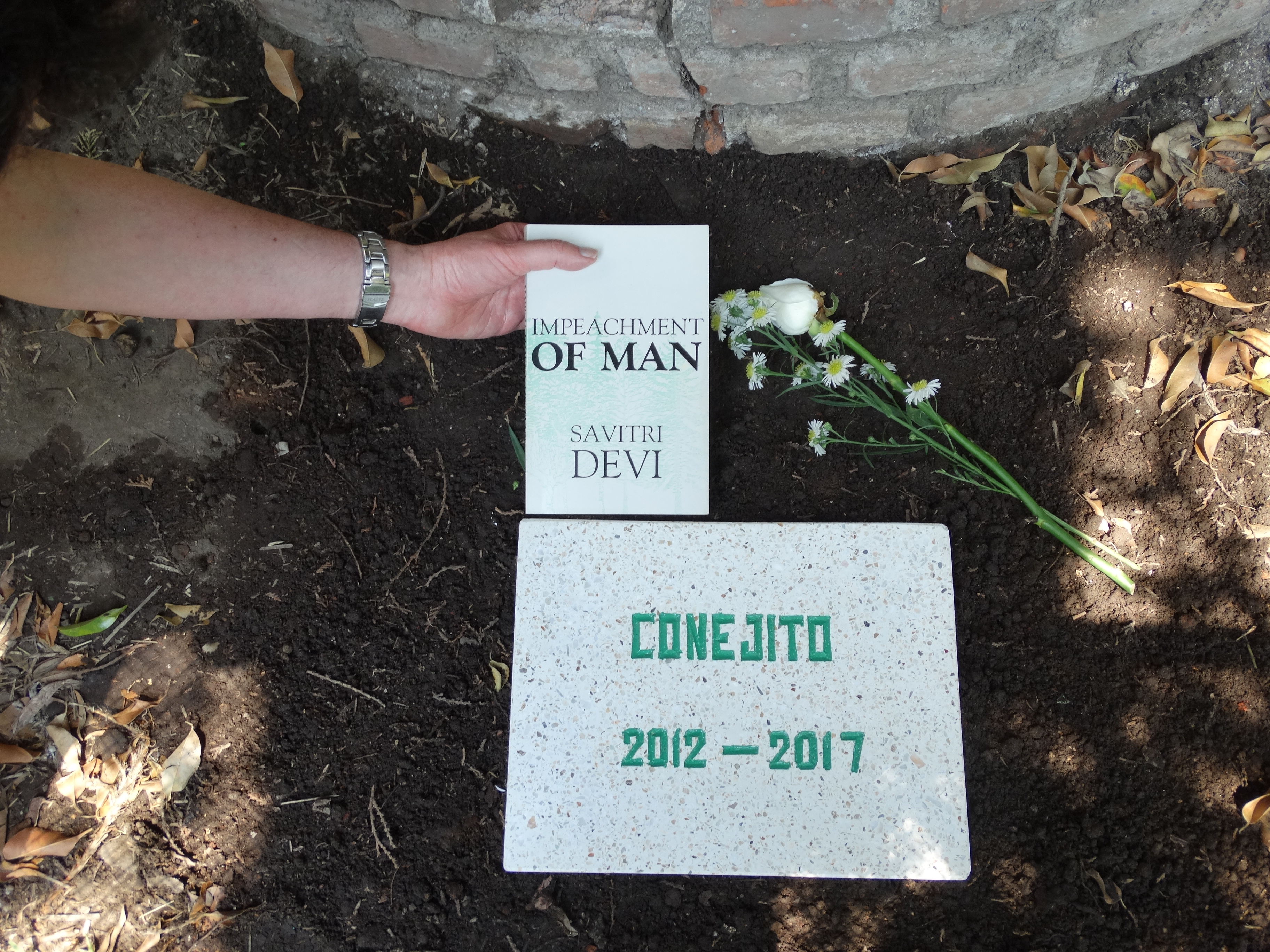 Excerpted from Chapter IV: Action precedes theory
A man who has always felt an insurmountable, physical disgust for animal slaughter, and to whom the very sight of meat is nauseating, is hardly likely to force himself to become a flesh eater just because the books he was taught to consider as sacred or infallible (be they religious scriptures or "scientific" works) seem to encourage such a diet rather than forbid it, or because the founder of his faith, or the geniuses he reveres the most, obviously ate meat. He may not always have the courage to denounce the man-centered religion or philosophy in which he was educated, on the sole ground that its ethics are not high enough for him (in fact, shockingly below his own natural ethics).
From the point of view of practical behaviour, there are, properly speaking, only two kinds of people: those who really love animals (and plants) and those who do not.
We are, for instance, all acquainted with the belief, shared by many, that animals (and, a fortiori, plants) have "no soul," or that if they have, their soul is of a nature entirely different from ours, in particular that it is not immortal. We all know that Christianity enjoins us to "love our neighbours," including our enemies, "as ourselves," but is completely silent about our duties towards subhuman creatures.
If one is to "love" a man who has murdered one's parents, committed atrocities upon one's countrymen, or robbed one of one's livelihood, then it appears obvious that one should, a fortiori, love the lamb, the kid, the cow, and all innocent irresponsible creatures enough, at least, not to encourage the butcher's hideous industry; and that one should love harmless frogs and guinea pigs enough to protest against the use of them in scientific experimentation.
Up till today, no creed obviously implying consistent active kindness towards all sentient beings has ever succeeded in imposing itself upon the practical life of any human society.
A great many of the town-bred meat-eaters we know, in Europe at least, are animal- lovers at heart.… although they generally express a sincere horror after reading or hearing a vivid description of a slaughterhouse, yet they do not spontaneously connect all the ghastliness of animal killing with that particular chunk of meat they see before them in a dish with roast potatoes and onions all around it.
They do not automatically picture to themselves, at the sight of it, the agony of a sheep, of a bullock, of a young calf, once enjoying the taste of fresh grass and the light of heaven, then suddenly drawing its last breath in a pool of blood . . . and for what?—for them to have some mutton, beef or veal on their menu. If they did actually imagine that, half of them would shrink in horror, and not only eat no more meat themselves, but also despise all those who refuse to give up that habit as one despises the accomplices in some hideous murder case.
But they do not. The custom of feeding on flesh and the knowledge that "men have always done so from the beginning of the world"—the reaction of daily repeated misdeeds upon one's true sense of values—have blunted, if not completely obliterated, their power of visualizing at once that which they wish to forget. They are not obsessed by the unavoidable connection between an appetizing roast with potatoes around it and the sickening reality of the death struggle of a slaughtered beast, as we would be. A whole series of associations of ideas has been suppressed in them by an obnoxious "education," and they have not enough imagination to revive it of their own accord.
The same could be said about all those inconsistent animal lovers who would not refuse the present of a fur coat, nay, who would not hesitate to buy one if they could afford it; who take medicine (preventive and curative) prepared at the cost of the suffering of many guinea pigs and white rats; and who hire a carnage when they are in a hurry (in places where taxis are not available) without making sure that the horse is not tired, sometimes even without paying attention whether the driver beats it or not.
A natural, spontaneous feeling of sympathy for any individual living creature, allied to a sufficiently vivid imagination, is a rare quality. And consequently real animal lovers—not merely those who keep pets, or those who burst into indignation at the thought of one form of cruelty and tolerate or even encourage another—are very few. Real plant lovers who feel for the trees themselves, and not merely for the shade, fruit or flowers they give, are equally rare.
One may also wonder whether any substantial progress has ever been made in that line, from the beginning of historical times. One may even wonder whether organized society has not deliberately worked to destroy such spontaneous brotherly feelings towards beasts as might have existed in some of the better human beings living outside its pale.
The enemy of the hunter (as well as of the butcher, of the scientist who experiments on living creatures, etc.) is an enemy of mankind.
We scorn all men who condemn "wars of aggression," and who, at the same time, eat meat; nay, we scorn all pacifists who do not, in their everyday dealings, live up to the ideal of universal nonviolence preached by the Jains. We scorn all those, whoever they be, who have never raised their voice against scientific experimentation upon innocent animals (which can be neither for nor against any cause) and who dare condemn experimentation upon one's dangerous—or potentially dangerous—human enemies.
We scorn all those who never were moved to indignation at the idea of man's lasting crime against the living Realm;—at the thought of the enormous daily round of avoidable pain inflicted by man upon beasts (and even plants)—and who, yet, dare speak of "war crimes" and of "war criminals."
We flatly refuse to condemn war,—be it a thousand times a war "of aggression"—as long as mankind at large persists in its callous attitude towards animal (and tree) life. And as long as torture is inflicted by men upon a single living creature, in the name of scientific research, of sport, of luxury or of gluttony, we systematically refuse our support to any campaign exploiting public sympathy for tortured human beings—unless the latter be, of course, such ones as we look upon as our brothers in race and faith, or people near and dear to these.
The world that exalts Pasteur and Pavlov, and countless other tormentors of innocent creatures, in the name of the so-called "interest of mankind," while branding as "war criminals" men who have not shrunk from acts of violence upon hostile human elements, when such was their duty in the service of higher mankind and in the interest of all life, does not deserve to live.