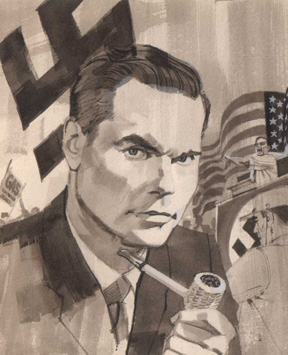 A passage from This Time the World
by George Lincoln Rockwell
In addition to this positive motivation for my activities, there is a negative hate—a burning hate which alone can drive me to lose my temper, a thing I almost never do. Bullying—the beating or torturing of an innocent or helpless creature by an overpowering creature or group of creatures, for the sheer pleasure of bullying and torture, drives me to a frenzy such that it is difficult to control myself.
The combination of these two overpowering drives from deep within me, I believe, are the underlying motivations which sent me down to the mail, wearing a Swastika armband, ready to die, if necessary and dumped me, for the moment, in the smelly little cell in the basement of the Washington, D.C., Police Headquarters.