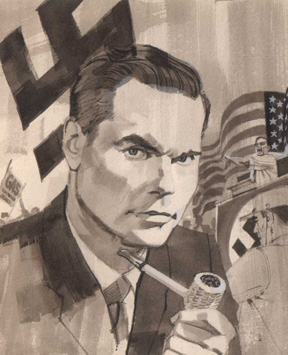 A passage from This Time the World
by George Lincoln Rockwell
Dedication to: Adolf Hitler
Like spiritual giants before you—you were cursed and driven to death by spiritual pygmies for daring to stand up for a new and vital truth. Your heroic people lie silent, bound in golden chains and torn between the two criminal gangs of Bolsheviks and Zionists.
I helped to bomb and burn millions of your brave young men. Your blue-eyed young mothers were raped and murdered by Soviet and Negro savages. The millions of little blond boys and girls you loved so well lie moldering in acres of devastation and ruin. Millions of my fellow Americans, British, French and others of our racial comrades, all as ignorant as I once was, were slaughtered and maimed fighting for these same two filthy gangs of Zionists and Bolsheviks.
The Weltfeind cringes like the Devil at the sign of the cross. Your mighty spirit has inspired millions with the Holy Truth. From all over the earth, faintly at first, comes the sound of marching boots—louder and louder they grow! Listen! They are singing!
"Die Fahne Hoch! Die Reihen fest geschlossen!"
Out of the mud and slime of lies, your holy red, white and black Swastika has been flung back into the skies in Virginia, United States of America, and we pledge you our lives, Adolf Hitler, that we shall not flag or fail until we have utterly destroyed the forces of Marxism and darkness.
HEIL HITLER!
"It is necessary that I should die for my people; but my spirit will rise from the grave and the world will know that I was right."