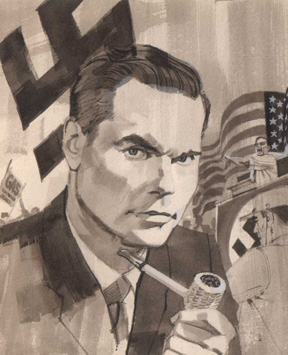 A passage from White Power
by George Lincoln Rockwell
Unless the White Race can find the leadership, the wisdom, and the will once again to police the world, the planet will continue in the grip of increasing chaos and terror, until the jungle reclaims the survivors hiding in caves and holes like frightened beasts. Only a united White Race, supremely conscious of its natural destiny, a destiny bequeathed it in the gift of superior birth, as a master race, a noble race able to create the wonders of Western Cultures—only such a united race can muster the will and the strength to restore order to a world in the process of suicide and disintegration. And yet, faced by the most hideous threat of all times, outnumbered ten to one, we find ourselves disorganized, demoralized, wallowing in defeatism, crawling at the feet of our own destroyers, and losing strength every moment. It is easy to fall prey to despair.
But there is another element in this cosmic crap game which must be taken into account if we are to make a correct judgment about the survival of our people and culture is the fact of the Jewish-Negroid-Mongoloid threat. That element is timing—or, if you will, destiny. The mighty White Race is brainwashed, filled with suicidal self-hatred, crazy about its deadly enemies, trivialized, doped up on drugs and lies, and apparently rushing headlong toward oblivion. But the strength of the blood is still there, as we have shown in every war where the Jews have "turned us loose".
Whenever as in World War II, the Jews wish us to be our ancient, ferocious, mighty selves, able to smash anything in our way: whenever they allow Natural Law to return to us, even in a temporary and wrong way, our people show themselves still heroes and fighters, not decadent weaklings, or in any way like the people of a dying culture.
The rumors of our death, to quote Mark Twain, are "greatly exaggerated". They are appearances only. Let only a strong leader appear, let our people once see the real nature of their Jewish and colored "friends" (as is already beginning to happen), and the blood of our Viking ancestors will well up in a berserker rage which will sweep away the miasma of Jewish and colored poison gas from our lives as a lion sends a pack of vultures flapping with one lunge.
It is not yet our "time" to die. Destiny has a way of doing her will in spite of all human efforts to foil her, both when she is creating and when she is destroying.
Destiny brought forth the greatness of Rome when it was time. Arid, when it was time, she cast it aside and made a way for the mightier Barbarians, sweeping down from the cool northern forests.
Destiny brought forth the British Empire, when it was time. And, after centuries of rule, Destiny withdrew her blessing and the British Empire died—when it was time.
Destiny is even now, in America, conceiving the new imperium of our time, the White Imperium—the unification of the White Race and its conscious racial mastery of the Globe.
In spite of all signs of death and disease, deep within the vitals of our race is growing the embryo of that unity and that White Imperium which will last for its thousands of years, and destroy all which stands in its way.