"In Shadow"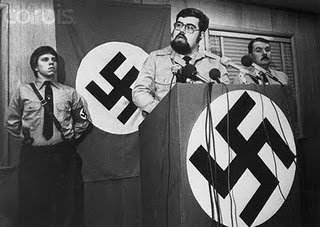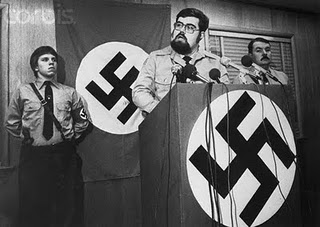 "It always helps to have allies and exterior sources of aid, true," agreed Morehouse. "A lot of people across the world want to see the United States go down, and they'll be willing to help once they observe that our men have the right stuff and we are seriously pinning down American forces which would otherwise be used against their own countries. The Russians in particular won't have any objection to stepping back up to superpower status while we mangle ZOG from within. Bear in mind that there are certain advantages in fighting from within the belly of the beast. For all the incipient collapse and waste of the past three generations, this is still the richest country on the face of the earth. Everything we need to fight and win is right here; we just have to take it."
Coyle nodded. "You're right, Red. It's all there just waiting for us to stiffen our spines and take it. We need weapons and ammunition? We don't need gun-runners from outside. There are enough guns left in private hands in this country to get us started, guns we can beg or buy, or just take. The Old Man always said that gun control was never really that important an issue. There was no point in having a right to keep and bear arms if we were never going to use it. How many right wing cranks have we all known down through the years who had a whole rec room full of guns, all gathering dust and rust, not one of them ever used to fire a single shot in anger at the real racial enemy?
"We need safe houses, training and staging areas?" Coyle continued. "The Pacific Northwest is huge; the Feds simply won't have the manpower to put a soldier behind every Douglas fir tree… The NVA [Northwest Volunteer Army] does not fight on the defensive. They do. They don't hunt us. We hunt them… This is a spiritual problem, not a material one. What we need are men and women with enough balls to pull the triggers and live the life."
"The size and terrain of our new country is in our favor," pointed out Morehouse. "A completely self-contained revolt might have small chance of success in some small and overcrowded country like England or Belgium, or some tiny state like Vermont or New Hampshire here, where the occupation forces can monitor pretty much everything and bring their superior forces to bear on any point quickly. This is the problem the Palestinians have always faced. They're trying to fight in a strip of land the size of a postage stamp, crowded in like sardines with their own people. But here in the Northwest we've got room to maneuver."
"Maneuver exactly how?" asked Hatfield.
"What the Army Council finally decided on is a series of small crews raising as much hell as possible in the cities. For the first year or so, in addition to direct operations against all federal authority and personnel in general, we want the combat crews to concentrate on gofers."
"On what?" asked Zack, puzzled.
"General Order Number Four," said Coyle. "GO-4 enforcement actions. Gofers. Get it?"
"Uh, refresh my memory," said Zack.
"Oh, that's right, you haven't yet seen the NVA General Orders. General Order Number Four orders all non-whites and homosexuals to leave the three basic Homeland states and anywhere else we're operating. Henceforth all non-whites, especially Jews, are considered to be legitimate military targets and are to be destroyed on sight, in theory. In practice, your job will not be to run around slaughtering blacks and Mexicans en masse. Your task is to drive them out, if you see the difference."
"Oh, they'll get gone," said Tommy Coyle grimly.
"It is absolutely vital that we whiten up the Northwest, and fast," said Morehouse. "Every non-white, every Jew, and every bugger boy is a potential enemy asset, a pair of eyes and ears for the Feds, a potential enemy soldier who by the very nature of who and what they are can only seek to do harm to us and to our people. That's in addition to all the problems they cause with their usual crime, violence, drugs, and monkey music. Right now the federal government has a vast pool of millions of willing assets, activists, and soldiers, living right here among us. We have to drain that swamp. But what's more important, the white people of the Northwest need to see a difference, a visible improvement in their lives. Fewer Mexicans especially. They need to no longer hear the babble of Spanish or ching ling ding in the local Safeway. They must no longer be confronted with sullen clerks and attendants in business places who don't speak English. They have to notice that all of a sudden there are jobs available once again. They should be able to open their windows on a summer evening and not hear jangling salsa music from a boom box or a passing low ride."
"They have to understand that we are doing with the gun what the American politicians promised for 50 years and never delivered," concluded Zack. "How do we go about it exactly?"
"Blacks are simple," said Morehouse with a shrug. "You shoot a few and make it clear to the rest of them that remaining in the Pacific Northwest is hazardous to their health. Let them know the Boss Man is back, as the Old Man said in his nationwide address on October 22nd. You'll get some who'll go on television and swagger and beat their chests like King Kong and go booga booga booga about how brave they are, and how no cracker woodchuck racists gonna run dere black asses outa nowhere, all that happy horse shit. You shoot them, too. It won't take long for the message to sink in.
"Mexicans are a more complex problem," Morehouse went on. "There's an economic factor there. Mexicans are here because capitalists employ them. Some of those employers are rich white people who want their pools cleaned, and their lawns trimmed, and their children nannied while they go out every day dressed for success, sure, but mostly it's the big corporations who have brought in all this mud, everything labor-intensive from flipping burgers to stacking pallets to mass farming in agribusiness."
"Which is one reason why whites are so poor these days," pointed out Coyle. "Whites aren't eligible for affirmative action."
"The employers are the key" said Morehouse. "To get rid of the beaners we don't just go around blasting them on the corner, although there needs to be some of that, of course, to get them motivated. We go for the employers, without whom there would never have been any problem to begin with. We need to deprive capitalism of this vast pool of cheap Third World labor they've imported into this country and force them to start investing in real human resources again. They'll try all the usual crap, outsourcing and eventually shutting down their companies and trying to flee the Northwest for Guatemala or someplace rather than employ white people at a living wage. They'll think we can't find them and wire something to their car ignitions in New York or St. Louis.
"That's for the future, though," Morehouse went on. "Right now, what you guys on the ground need to do is deal locally with direct managers. You just go into a place that employs Mexicans or Chinese or whatever, wearing your ski masks at first, then later you won't need to because no one will dare to try and stop you. You politely explain to the boss or the manager that come Monday morning there had better not be a single brown face in his establishment, or else there will be all kinds of physical experimentation done upon his carcass. If he tries to pass the buck to the head office or something like that, explain to him that the head office isn't going to go upside his head with a baseball bat if he doesn't do what he's told. Do not burn down or blow up the factory or the business unless it seems really necessary to make your point. Remember, white people need those jobs the illegals will be vacating, and there will be some white employees there whom we don't need blaming the NVA for losing their jobs. No need to get too heavy about it. We've already littered the landscape with enough corpses so they'll know we're serious. There's nothing like killing people to convince others that they'd damned well better listen to what you have to say."
♣
"It won't last," said Hatfield grimly. "What little is left of the Constitution will go right out the window and the iron heel is going to come down hard, and soon. Okay, now, my favorite and most anticipated part of the evening. What about our local lefties and anti-fascist scum?"
Washburn grinned and pulled out a list. "That was easy, thanks to the public library and a stroll through our four or five lefty bookstores and coffee bars in Astoria. These 55 names are just about everybody in our three counties who has ever written an anti-racist letter to the editor, organized some left-wing demonstration or event, run some lefty activism group, or worked for the Hillary Clinton campaign."
"Surely there's more than that?" asked Ekstrom. "In Astoria alone there's some liberal airhead under every rock."
"I removed overlaps from the other lists," said Washburn. He pulled out a second paper. "This one is bugger boys and dykes, 112 names. I won't say that's all of them, but damned near. And finally," out came a third list, "119 Jews. May I make a suggestion? We don't burn these lists. We should find some way to blow them up poster-sized, and then when we've popped a couple of Reds or sodomites or hebes, we start posting them around town in the dead of night with the appropriate names crossed off. Psychological warfare."
"Bet you by the time we've killed half a dozen of them, the rest will scatter like quail," said Ekstrom.
"But first I need to go over the Army Council's policy on target selection with you," said Donner. I'm sure Red and Tommy have already mentioned to you that we don't just want to run around slaughtering everybody with a dark face.
"That said, a lot of your work will still be gofers, GO-4s, General Order Four enforcement. It may look to outsiders like we're just gunning down non-whites at random, but actually the whole issue of target selection is very complex. The selection of targets will primarily be the duty of the company commander, with the assistance of the XO [Executive Officer] in his intelligence gathering capacity, but anyone can propose an enemy target for the CO's [company commander] consideration. Every target that we destroy, human or material, needs to have some kind of clear and visible value to the Zionist occupation government. The public needs to be able to see and understand why we shot so and so or blew up or burned down such and such a place.
"The NVA tactical philosophy is that the minute hostilities commence in any operational area, we need to start hitting those targets, not sit there admiring our lists for the neat typing. The NVA must always hit, hit, hit! We must keep the feds off balance, never knowing when and where we will strike next, but knowing it will be damned soon. Right now they're still trying to maintain business as usual, trying to pretend that we're just ordinary criminals. They're doing full CSI workups, forensics, and legal documentation on each incident. We must present them with so many incidents that their ordinary procedures of criminal investigation and apprehension will be stretched to the breaking point and then snap under the strain, thus forcing them to fall back on brute force and institutionalized terrorism. Remember, normal law enforcement in America is already so swamped with ordinary crime, drug-related messes and the thousand-and-one problems that come from massive numbers of Third World people living in a Western society, that in many areas the system can barely function as things are. We need to tip the system over the edge. We have to hit them so hard and often that they can't keep up, so that all they can do is just follow along behind us and keep on picking up the dead bodies we leave for them."
"Sounds good to me," growled Hatfield.
"But still, there are some guidelines. Some very important guidelines," warned Donner. "First and foremost, no kids!
"If they're old enough to have a shitty little moustache or visible tits, they're old enough to do harm to white people and they're fair game, although personally I'd say play it safe by concentrating on adults. One obvious exception would be blacks or Mexicans in high school that can't seem to lay off chasing white girls. We need to get the word out: that shit comes to a screeching halt, now!"
"Mmmm, Larry, what about bombs?" asked Hatfield. "I recall that the one thing that probably screwed the pooch for the Provisional IRA more than anything else was their seeming inability to pop the top in Belfast without blowing up some poor mother and baby in a stroller passing by."
"Yeah, and those dumb Paddies would also do crap like shooting a man down in front of his children, shooting teachers in front of a class full of kiddies, so forth and so on," said Donner in disgust. "What the hell were they thinking? I admit, one of our big nightmares is that some white child is going to be in the wrong place at the wrong time and get killed by one of our detonations. The white people they accidentally kill will disappear. Any witnesses will be silenced, their families will be bought off, and the media will make those incidents drop off the radar like they did in Iraq. The United States can afford collateral damage, but we can't."
"Got it," said Hatfield.
"Okay, second no-no in target selection," Donner went on. "Christian ministers, priests, and for the moment, church buildings themselves. This one may change later, depending on how serious a threat the evangelicals and others become to us. Remember, we have to get the silent support of a majority of the white population here at least to the extent that they do not inform or actively collaborate with the occupation."
"Understood," said Hatfield.
Donner continued, "Obvious targets like racially mixed couples and faggots. That shit stops! It stops now! No more! If you know where any live, waste them and burn them out, just make sure you don't kill any cute little mulatto kiddies."
"They'll be on the 6 o'clock news crying for their mommy and daddy," rumbled Ekstrom with a scowl.
"Who else is on the hit parade?" asked Washburn.
"Basically, we hit anyone who is part and parcel of maintaining federal authority in the Northwest. Start with lawyers, judges, and anyone to do with the courts. It is absolutely essential that the enemy court and judicial system come to a grinding halt. From now on courts do not sit, unless it's behind a Bremer wall, and not for long even then, until we get at them somehow. These courts do not judge us, or anybody else. They are no longer lawful and the government they serve no longer rules in this land. We do. If someone in the community is causing a real problem with drugs or genuinely anti-social behavior, the NVA will deal with them, not the American law and not the American courts. All attorneys are considered officers of the court, and the court is an alien and enemy power occupying our land. All attorneys are therefore legitimate military targets. All judges will immediately resign and leave the Homeland, or die. We thus force the enemy to fall back on military tribunals or simple arbitrary internment."
"That's coming anyway," remarked Hatfield. "Let me hear some more about the goddamned lefty media."
"Media personnel are much more delicate," said Donner. "We not only need to neutralize them as enemies, we need to make use of them for our own purposes, no matter how reluctant they may be. We can do this by punishing a few of their more excessive individual personnel, but letting the rest continue to function so long as they provide balance in their coverage. For example, if they have to report federal government press releases and statements, fine. But they also report statements by the NVA, verbatim, and they do it with a straight face and no unseemly comments. They give us the same air time and they refrain from any snide side remarks or manipulation of the news. Oh, and by the way, they don't use the term 'terrorists.' They call us the NVA, or Northwest Volunteers, or white separatists, or even insurgents is fine, but terrorist is the ZOG word for us, and the media will not use it."
"You mentioned something you called floats?" asked Hatfield.
"Floats are the most dangerous of all NVA operations, because they're more or less spontaneous and unplanned," said Donner. "That's when some of the boys lock and load, pile into a couple of cars, and go out cruising to try and find somebody to shoot. The drawbacks are obvious; there's a possibility you will run into something you can't handle or get jammed up in traffic with the cops after you, something like that. But they're a valuable tactic for the same reason.
"There's no real hard and fast rule here," Donner continued. "You guys are going to have a more independent command out here in the great north woods than our urban units, and you're going to have to play a lot of it by ear. The basic operating principle for now is this: we cannot allow the enemy to maintain any pretense of business as usual, any pretense that they are still the law and we are criminals of some kind. From the moment of the Declaration of Northwest Independence in Coeur d'Alene, from the night the Old Man gave that address to the world on TV, we are the law and we are legitimate. They are the criminals and the interlopers. Be good cops for the Republic and take 'em out, boys."
♣
"No, you don't understand, I'm not proposing to hit the monkoids themselves," said Hatfield. "Read on."
"Hmmm…." Donner said, pursing his lips. "Says here that Mr. and Mrs. Jacob Goldman donated their own personal beach house indefinitely to these poor Affikin-Amurkin refugees from racist fascist terror, and Mrs. Irene Goldman tells us she thinks that Oregon needs more diversity in the face of this growing threat from us evil white boys. Do they live around here?"
"Big Victorian mansion up on the hill in Astoria," said Hatfield. "He's retired from some New York merchant bank, he's a wheel in the local Democratic Party and a known ADL asset, and she runs the most upscale art gallery in town. Big contributors to every known Jewish and liberal charity, including hosting our annual Israel Bonds dinner at the Elliot House. Both of them really tight with the local evangelicals who of course fall down and adore them as God's Chosen People. I can't think of any opening target that will send our message louder or more clearly. The Goldmans, their kind, and their day are done in the Northwest." Donner looked up, his lip curled in a sardonic smile, and he raised his hand and quickly drew his finger across his throat in a slashing motion.
"It's done," said Hatfield grimly.
"When?" asked Donner.
"Give us another few weeks. I'd kind of like to give the Goldmans a very special Valentine," said Hatfield with a chuckle.
"Okay, this fits in really well with something else," said Donner. "Brigade has a strategic objective we need your help with. If you watch the news, I'm sure you're aware that both First and Second Portland Brigades are both starting to strike on a regular basis. We've taken out some blacks and gooks and Mexicans, and the city is already beginning to get noticeably whiter. We've also taken down a few Portland cops, mostly of the black and brown persuasion, and we've popped the top on a couple targets, mostly Korean stores, the Holocaust memorial, petty shit like that. But the one thing we haven't been able to do yet is to take out any FBI or Homeland Security. Our friends in the silk suits are getting antsy, and they've gone cautious as hell on us. They know they're being hunted. They've fortified the federal building on Southwest Third Street and all the offices and facilities they use. They've created a whole huge Green Zone in the Justice Center surrounded with Bremer walls and razor wire and every electronic security device known to man as well as an army of police and federal security guards. It now takes a triple-threat security clearance even to get upstairs. Most of them have sent their families out of the city and in most cases out of the Northwest. They've taken over the downtown Holiday Inn for most of their staff, and they take armored shuttle buses to and from work. Those who still live in their own homes now drive bulletproofed cars and vary their routes to and from the office, etc. etc. I guess these assholes did learn something in Iraq. We've come close enough to pop a few rounds at them from a distance, but no hits. That's given them something to think about and made them even more nervous, but we haven't been able to nail any of them yet. The fact is that in the city, they're hard to detect and follow. We know who some of them are but not all, and they've started to shift their agents around every couple of months so there are a lot of new people we don't know. What we want to do is flush the FBI or U.S. Marshals out, get some of them out in the open, out here in one of these small towns or on some rural road where they'll stand out like statues and we can get a clear shot at them."
"The assassination of two very prominent left-liberal Jews in Astoria sure sounds like a hatecrime to me," said Hatfield. "The FBI would pretty much have to investigate something like that, would they not? Especially with the Blue State establishment in this county howling like banshees demanding immediate action?"
"I think the FBI would understand that their absence from the scene would be a very bad message to send, politically, especially after they sloughed off your killing of those two lesbo bitches. Their absence from the scene of a second double hit would look very much like they're scared of us," agreed Donner. "They are, of course, but they don't want to be seen to be scared of us. Anyway, when you do get a fix on them, this will probably have to be done as a float. You won't have the chance to rig a bomb or booby trap, you'll have to take them on the wing, tail them and nail them as targets of opportunity. Are you going to be able to handle that?"
"I think this will be a good opportunity for Cat-Eyes Lockhart to make his NVA debut," said Hatfield. "I'll be his driver and spotter myself."
"I agree," said Donner with an enthusiastic nod. Most of our jobs are done like a Mob hit. Get in close, two in the head to make sure they're dead. Make sure you see the brains, as gross as that sounds. Then beat feet out of there and get rid of the weapon."
"Shoot and scoot," said Washburn.
"You've got it." Donner leaned over to them. "Gentlemen, there's something else I need to mention here, and I suppose this is as good a time as any for it. Now, what we have been talking about this evening sounds very bad and brutal. It is bad and brutal, but let's be very clear: this is the only way that this society and this foul world we grew up in is ever going to change.
"We live in a system that is specifically designed to prevent change. ZOG has turned this country into one great steel cage to keep us and our children penned like livestock all our lives. America has robbed white people of any hope, any future. They drag our sons away to be slaughtered in Iraq and Iran. They poison our children's minds and turn our kids into stupid white niggers, grown fat and lazy on fast food and computer games, trashed out on drugs and hip hop, while our daughters present us with mulatto grandchildren.
"The tyranny under which we live may still wear a velvet glove on occasion, but it is unspeakably evil and brutal, and only greater violence and brutality will bring it down. This was their choice. They made it this way, not us. You guys have to understand that in order to win through to freedom, we Northwest Volunteers are going to have to become hard, hard men. The hardest history has ever known, because that hardness of soul is one of the few weapons we can muster against an incredibly powerful enemy who holds all the cards. Compassion and mercy are all very well, but they are luxuries that are possible only in a basically decent world, and that world is not this one. You are embarking on a journey that will become horrible beyond measure, but our fathers and grandfathers sloughed it off onto us. We dare not pass it on to our own children, because we are the last generation that will have a chance to do anything about all of this."