"Sharkbait"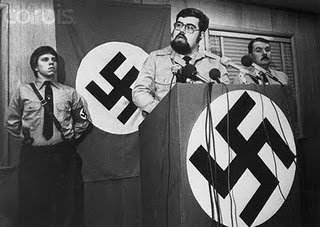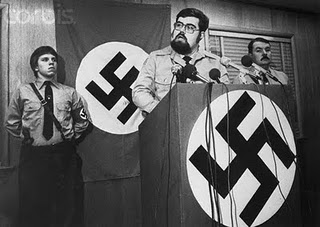 Kicky never knew ahead of time what she would be doing on a mission. The first few times out, there were no actual homicides committed. There were more punishment beatings of white liberals or people who had otherwise contrived to annoy the NVA [Northwest Volunteer Army], similar to the Lake Oswego job. Kicky marveled at the amount of time and effort put into the advance preparation of such relatively minor operations.
There were other missions besides punishment beatings. The actions of the rural NVA units such as Zack Hatfield's D Company, whose flamboyant attacks had generated for them the media nickname "the Wild Bunch," had successfully driven most of the Mexicans and the few blacks out of large portions of the Northwest hinterland in Washington, Oregon, Idaho, Montana and British Columbia. Many of the mestizos didn't stop running until they got to California, but some only ran as far as the big cities, and so temporarily at least there was actually a slight increase in the number of non-whites in Portland suburbs such as Hillsboro, McMinnville, and North Portland. The urban teams of the Portland brigades then took over the task of persuading them to váyanse from the Northwest as a whole, permanently. At least half of Kicky's tickles involved burning out or blowing up various Mexican hangouts, with or without the Mexicans inside, or else businesses known to employ illegals, including a construction site, a warehouse on the river front, and a commercial laundry owned by Jews and run by a Chinese straw boss with illegal coolie labor. These missions involved the approach to the target, one scouting tour through the area looking for potential problems, and then covering down and preventing interference while Fred and other volunteers hurled incendiaries through windows.
Kicky read the words from the sheet in a steady voice: "At 2035 hours tonight, elements of C Company, First Portland Brigade, Northwest Volunteer Army carried out a General Order Number Four enforcement action directed against the Blue Lagoon Lounge on 82nd Avenue in Portland, a known resort of drug dealers, transvestites, and non-whites posing a clear and present danger to the white community. A vehicle containing two hundred pounds of explosives was parked in front of the main entrance and detonated, destroying the building and everyone inside it completely. All sexual deviates, Jews and other non-whites are reminded that Army General Order Number Four prohibits their presence anywhere in the Homeland, and if found within any NVA command's area of operation they are liable to immediate termination as military targets. End communication."
"Wait!" squealed the woman. "Let me get a pen. What did you …?" Kicky closed the phone and handed it back to Ace. "Uh, comrade, looks like this script was printed earlier today, before the bomb could have even gone off," she inquired, handing it back to him as well. "How could you know beforehand that everything I just said would happen according to plan?"
"It did. That was the confirmation call I got just now," said Ace. "As to how we knew beforehand, the Red Baron never misses."
"Red Baron?" asked Kicky.
"Best car bomb maker in the NVA," said Ace proudly. "He not only makes 'em, he drives his own work. Maybe you'll meet him one day." A moment later, Kicky felt her own cellphone at her side vibrate. She guessed that Lainie Martínez was having an orgasm at the thought of getting close to a major NVA explosives expert, and was sending her a hint that she was to pursue the subject, which she ignored.