Although I had promised never to comment at Mangan's again, I could not resist responding to the last instance of psychological dissociation by Fjordman in this thread. Dennis Mangan seems to have deleted my comment, perhaps because what I had written about him here (something unrelated to Fjordman). The other possibility is that my comment turned invisible due to a Blogger bug.
Anyway: although my removed comment replicates what I had stated here in the first entry of this incarnation of my blogsite, the subject of Jew-blind counter-jihad is worth revisiting.
At Mangan's Fjordman wrote yesterday: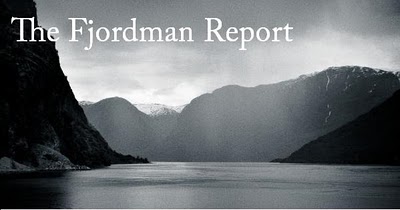 "The obsession with Jews you encounter in some of the comments here does turn sensible people off. It's stupid, and looks that way, too" (my italics).
Isn't this like saying: "The obsession with Muslims you encounter in some of the comments at Jihad Watch, Brussels Journal and Ned May's Gates of Vienna does turn sensible people off. It's stupid, and looks that way, too"?
The counter-jihad movement in general and Fjordman in particular are in denial: they deny that there's a Jewish Problem just as liberals deny that there's a Muslim Problem.
Since counter-jihadists are notoriously philo-Semitic, they have had the nasty little habit of shunning true nationalists when the latter confront the counter-jihadists with their dissociation about the Jewish Question. No frank discussion about the influence of Jews in our civilization is possible within the main sites that alert the western world against the concerted effort by Islamic jihadists.
If counter-jihadists fancy themselves as defenders of western civilization why do they often resort to shunning genuine nationalists, Fjordman included? The straightforward answer is that, when the best minds in the counter-jihad movement dare to enter the arena, the nationalists thoroughly deconstruct their philo-Semitic views (cf. what happened to poor Larry Auster and poor Takuan Seiyo).
That's what they fear.
Take a quick look at my latest exchange on the Jewish Question at Jihad Watch (search "Chechar" here). Look how, after their many insults and ad hominems, they became silent when confronted with their ignorance about Holodomor crimes in the former Soviet Union, perpetrated by Jews in the century when we were born. This is the kind of stuff that the likes of Fjordman will never address because it's so obvious that what the Jews have done to native whites is far worse than all the Muslim terrorists acts against the West put together.
Counter-jihadists like Fjordman are just willfully ignorant about the Jewish Problem. How many of them know that Ashkenazi Jews performed eugenic, Mengele-like experiments on Sephardic children in Israel (1st of 5 YouTube documentary here)?