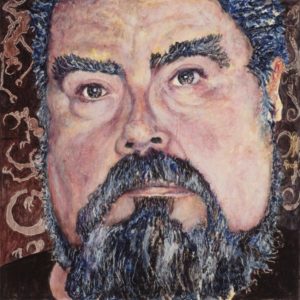 Last Friday I said: 'I discovered the racial right forums very late in life, after my fiftieth birthday.' Then I added that the first decades of my intellectual life had been devoted to knowing myself, following the Delphic injunction. To understand The West's Darkest Hour it is essential never to lose sight of where I come from.
An individual who comes from extreme self-knowledge looks at the structure of the inner self. When I finished studying the authors who helped me understand highly dysfunctional families, I realised that they only represented part of the psychological healing process of coming from one of these families.
In the post a week ago I also mentioned Stefan Molyneux, who was abused by his Jewish mother, something Molyneux confessed to in some of his videos. But what I liked is that in one of his videos Molyneux added that when he left home and saw the world, he realised that the Western world was as crazy as his mother. So true, although because of his Jewish ancestry, Molyneux never wanted to address the JQ in his videos. He was never a philosopher of integrity, nor did he ever know himself deeply.
When I discovered white nationalism I realised that my self-image and self-esteem hadn't only been undermined by mistreatment at home but that contemporary Western society had made me, like the rest of Western men, lose my manhood. Compare the Germans of today, overwhelmed with feelings of false guilt, with the Prussian military of former times! And the same can be said of the rest of Westerners.
Well, when I imbibed white nationalism in 2010, the therapy that restored my once-lost manhood was William Pierce's The Turner Diaries and the Harold Covington quartet (Covington hadn't yet written the fifth novel in his saga). It was because of this that I was originally blind to Covington's character flaws, which I would only learn about in later years. But while I share everything Hadding Scott has written about Covington's shenanigans, that doesn't detract from the fact that devouring his novels, thirteen years ago now, about the revolutionary creation of an Aryan Republic in America, restored my manhood in the sense that this is how we should act.
If we look at the reactions of Lebanese men this very day to the Hezbollah leader's speech and compare them with Westerners today, we will understand what I mean by 'regaining our manhood' (YouTube has been deleting clips of Hezbollah leader's speech earlier in the day so I am not linking any clips here).
Of course, an Aryan leader must be the antithesis of Covington, who spent his whole life slandering other racialist leaders in his country. Covington is only to be understood as a novelist, never as a leader of a cause. It reminds me that when I read Gore Vidal's Julian thirty years ago, I was fascinated by his novel (a novel that every Aryan who wants to reclaim his land should read). But when I started browsing through Vidal's autobiography in a bookstore, I was disgusted by the pictures of shirtless macho men that Vidal put in there boasting that he had slept with them!
On that level, Covington's biography also disappoints. But I can't deny that both his quartet and Vidal's novel about Julian the Apostate gave me back a part of me that society had stolen from me.
Several white nationalist essayists have written about Covington in Counter-Currents and The Occidental Observer. The most recent essay was published this September and October and can be read in three parts here, here and here. In that essay, we can see that the proofreader of his novels wrote:
Harold grew up in Burlington, North Carolina in a semi-upper class family, at least by Tarheel standards, but his childhood was troubled. His father was abusive and unstable. Harold learned to maneuver around him, and his brother had his own emotional difficulties. He was stern about not wanting to dwell on his childhood, however, saying that he'd spent the previous three decades trying to forget it, so much so that he scorned the idea of writing memoirs: "I have no intention of going back there and wallowing in the mud for the titillation of Morris Dees, armchair Jewish psychologists, and other such slimy voyeurs. So there will be no My Life In A Looney Bin by Harold A. Covington."
Therein lay the rub. If Covington, as I did, had dared to put down on paper the details of his hapless childhood, and the problems he had with his abusive father (instead of some vampire novels he wrote), he would have healed psychologically. He wouldn't have become that mentally dissociated fellow who foolishly believed that, by defaming the leaders of white nationalism, he was going to come out the winner. We have said it before and it bears repeating: Know thyself and you will know the universe and the Gods.