Like Andrew Anglin I am glad that Paris and other French cities are going up in flames. As Nietzsche and I said in the last two pages of Neo-Christianity, not only the Vatican (the symbol of Christianity) but the Arc de Triomphe, as a symbol of Neo-Christianity, must be razed to the ground. But unlike Anglin, I look not at the present but at the causes that led the French and other whites to believe such idiocies as that humans of all races, Orcs included, can be French citizens.
In the last few days I have been linking to videos by normies that shed light on the POV of this site. But only a couple of hours ago I discovered a Christian, Stephen Meyer, who concedes that we have 'a secularised hyper form of Christianity that we call wokeness that is eating our culture from inside out…'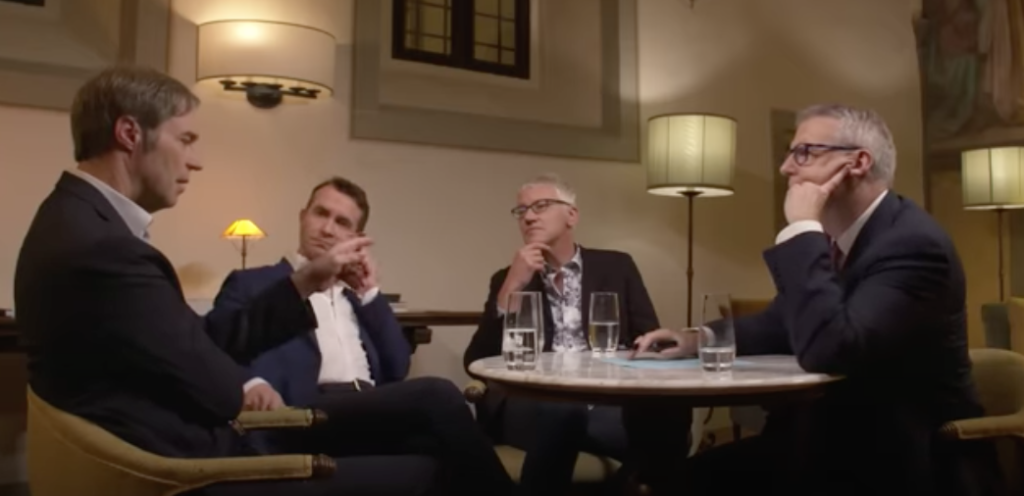 Stephen Meyer, Douglas Murray, Tom Holland and Peter Robinson.
But that wasn't the highlight of that roundtable. Most important was what Murray said next. Responding to Holland he said that—I rephrase—it is a miracle that Christian morality is, at this historical moment, hanging in the air without the support of traditional Christian dogma, like the cartoons I used to watch as a child, where a character would cut the branch of a tree he was sitting on with a saw and not fall down until he realised that the branch and he were no longer supported by anything!
This miracle of being in the air for a couple of seconds without falling (although in historical times it's not seconds but decades) gives me hope, not the hope of Murray but the hope of seeing the blonde beast redivivus once he falls.