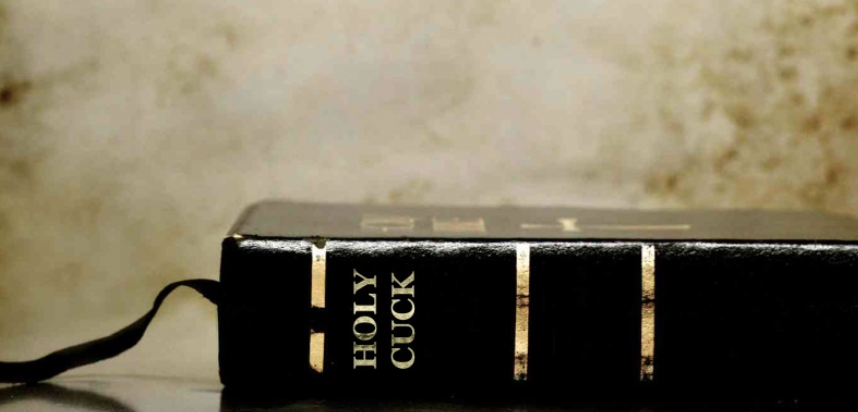 Some of you may be getting bored by our analysis of Christianity—but, rest assured—it is a subject which we must entirely go through. It cannot, it must not be allowed to remain something that we don't want to touch because some of the White Europeans find it "holy"…
Our Age is the age of information. We are capable of overthrowing any and all Jewish induced ideologies and systems because of one major leak in their entire path of history—the Internet. This perhaps is their biggest enemy alongside the White race. We are now capable of sharing data which none of us would have ever gotten his hands on with the PC era…
…all Christians have the obligation now, by definition of their Belief, to help these god damn non-White people who are immigrating into our Nations from any and all angles of this planet. They can't refuse them. They would be bad Samaritans—god damn it!—they might end up in Hell. And even if some of these rapefugees are our Enemies we must Love them! And even if they kill us and persecute us we must Pray for them!
For the Christian, the African continent of Blacks is a never ending treasure hunt of "good Samaritan" performance. They go down there to get a ticket to Heaven. You can't ignore these facts. This is what Christianity has done to our people. Self-suicide of the highest value…
In the New Testament, this limitation of moral obligation to fellow-countrymen is abolished. Christ gives a wider interpretation of the commandment in Leviticus 19:18, so as to include in it those outside the tie of nation or kindred.
This is definitely done in the parable of the Good Samaritan (Luke 10:25-37), where, in answer to the question, "Who is my neighbor?" Jesus shows that the relationship is a moral, not a physical one, based not on kinship but on the opportunity and capacity for mutual help. The word represents, not so much a rigid fact, but an ideal which one may or may not realize. This larger connotation follows naturally as a corollary to the doctrine of the universal Fatherhood of God.
How do you like that, Christian Nationalists? Christian Identity Israelites? At what point is the "faith in Jesus" less important than the preservation of your own Race? Probably never, because you are banking on that ticket to Heaven anyways…
At what point does your Brain begin to work again? You have two major options here now: drop the Bible, drop the Jewish religion, be free again; or be afraid of Jesus and become even a bigger Cuck than you ever were—become the greatest Cuck on the planet: let you daughter be raped by migrants in the name of Unity in Jesus, pray for her persecutors and love your enemies as yourself and your daughter!…
So, let us conclude everything thus far: the Bible is a Jewish fairy tale that consists of stolen material, was however carefully planned and designed in order to brainwash people and create a foundation for their New World Order. They were leading the entire process of Christianity in our lands. All the elements of the NWO propaganda, which are already heavily in place, have their basis in the Bible—whether it be the Old Testament or the New Testament.
The moment Christianity started to win ground in Europe, everything was lost. Our entire culture, history, science, philosophy and racial integration was gone. It destroyed everything. And it did so because of the Jewish Bible, because of Jews and their commandments which tell them that when they enter a territory—everything must be destroyed there and turned into the worship of their own God, which it was. They even introduced Hallelujah to praise the Jew God every single day…
One can't imagine the horror which has been brought into our Lands through the Bible, Judaism and Christianity. You must never forget where these sick ideas come from—the Bible—and where it comes from—the Jews. You must never ever forget this link. We have been victims of Jewish brainwashing and were afterwards used by the Jews to perform their Biblical prophecy throughout the World. There is one important factor to understand here. The Jews knew always what their Bible says! Our people, even the highest of Priests and Popes, never did…
One has to realize the Jewish hands behind all of this. It is as if you were reading the story about Communism in Russia. It is as if you were reading about WW2, with Germany being the biggest Heretic on the Planet ever at that point. All of this because Germany was returning to its European values and rejected the Bible—for those of you who still think that the German movement was in any form or shape Christian, just read the Hitler Youth learning books, where it is condemned as a Jewish Globalist agenda…
The Jewish Bible and Christianity were the primer tool for the control of our Past—they erased it. And through it we entered a collective state of Amnesia, which we are slowly getting out of…
1) Jews make up the Bible.
2) Christians adopting this nonsense become Spiritual Jews through faith in Jesus Christ; they become descendants of Abraham who are heirs to the promise of Zionism and the Jewish World Order.
3) Christians under the mental and physical guidance and hypnosis of Jews proceed to destroy the entire European continent, tradition, culture, civilization.
________
Read it all: here.