Below, an abridged translation from the first volume of Karlheinz Deschner's Kriminalgeschichte des Christentums (Criminal History of Christianity). For a comprehensive text that explains the absolute need to destroy Judeo-Christianity, see here. In a nutshell, any white person who worships the god of the Jews is, ultimately, ethnosuicidal.
 
Augustine, the spiritual guide of the Church of the West, was born on November 13, 354 in Thagaste (now Souk-Ahras, Algeria), of petit-bourgeois parents. His mother, Monica, of strict Christian formation, educated her son in Christian thought, although she did not baptise him.
His father, Patricius, a pagan whose wife 'served as a lord', 'became a believer towards the end of his temporary life' (Augustine); he barely appears in all his work and Augustine only mentions him on the occasion of his death. Agustin had at least one brother, Navigius, and perhaps two sisters. One of them, when she was a widow, ended her life as the superior of a convent of nuns.
As a child, as a curious anecdote, Augustine did not like to study. His training began late, ended soon, and at first was overshadowed by coercion, beatings, useless protests and the laughter of adults for it, even his parents, who harassed him.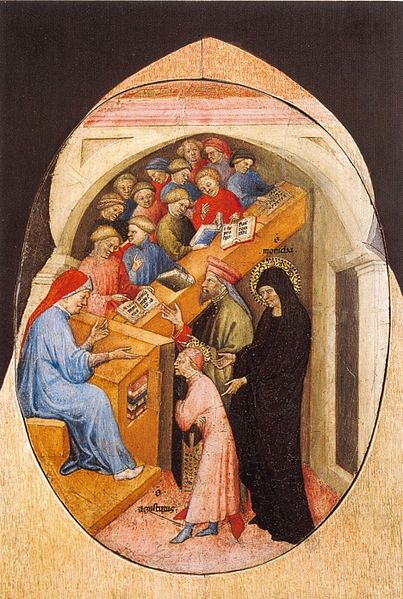 Editor's Note:
This 15th-century painting of Niccolò di Pietro of Augustine taken to school by his mother is very deceptive. Scholars generally agree that Augustine and his family were Berbers, an ethnic group indigenous to North Africa. I find it extremely annoying and surreal how, after Christian takeover, Aryans meekly submitted their worldview to non-Aryans—and more annoying that even white nationalists continue to be blind to these facts!
Yesterday I modified my site previously called Fallen Leaves in order to start adding entries there, in which I rebut what a Mexican theologian said about the Shroud of Turin (which I will eventually translate for my shroud series in WDH). Previously, that site collected entries in English about child abuse, which was my specialty before discovering white nationalism in 2009.
I cannot avoid the idea that the mistreatments that Deschner mentions to the pubescent Augustine influenced his late theology. For example, a good part of my book ¿Me Ayudarás? is an analysis of my father's misguided defence mechanisms—how he defended himself internally against the bullying at home and at school when he was a child. The point is that, if someone does not process these traumas, as an adult he will try to take revenge on innocents by repeating the abusive behaviour. I am sure that, had my father not been martyred as a child, he would not have launched invectives ('To the eternal fire…') as an adult when he spoke in the family.
I have read Augustine's Confessions and I remember some passages in which he describes how his parents made fun of him while praying to avoid the bullying and beatings at school. I daresay that, had Augustine had an 'accomplice witness' as a boy, he would not have rationalised as fiercely as he did the doctrine of hell: where he put even unbaptized infants for eternal torment.
Deschner continues:
____________
 
At seventeen, the young man went to Carthage, rebuilt under Augustus. A rich bourgeois, Romanian, had supported the father of Augustine, who died at that time, allowing the son to carry out his studies. To tell the truth, he did not do it very hard. 'What I liked', admitted in his Confessions, was 'to love and be loved'. He was seduced by 'a wild chaos of tumultuous amorous entanglements', he wandered 'aimlessly through the streets of Babel', he wallowed 'in his mud, the same as in delicious spices and ointments' while the Bible did not appeal to him either because of its content or its form, which seemed too simple.
Although he went to church, he went there to meet a female friend. And when he prayed, among other things he asked: 'Give me chastity but not yet '. He feared, indeed, that God would listen to him and 'heal me of the disease of the carnal appetite, which I wanted to satiate rather than extirpate'. At eighteen he became a father. A concubine, who lived with him about a decade and a half, gave him a son in 372, Adeodatus (gift of God), who died in 389.
Augustine, whom on the night of Easter on April 25, 387 Ambrose baptised in Milan together with his son and his friend Alypius, was appointed in 391, despite a desperate opposition, presbyter of Hippo: a millennium-old port city, the second largest seaport in Africa. And in 395 Valerius, the old Greek bishop of the city, who spoke bad Latin, names him illegitimately, so Augustine confesses, 'auxiliary bishop' (coadjutor) contrary to the provisions of the Council of Nicaea, whose eighth canon prohibits the existence of two bishops in a city.
______ 卐 ______
Liked it? Take a second to support The West's Darkest Hour.