Below, an abridged translation from the first volume of Karlheinz Deschner's Kriminalgeschichte des Christentums (Criminal History of Christianity). For a comprehensive text that explains the absolute need to destroy Judeo-Christianity, see here. In a nutshell, any white person who worships the god of the Jews is, ultimately, ethnosuicidal.

Shelter with a twenty-year-old beauty
After the worldly [events] of Trier and Rome[1], Athanasius now began something more intimate: the relationship with a maid of about twenty years and 'of such extraordinary beauty' —as all the clergy testified— 'that for her and her beauty they avoided any meeting with her to prevent suspicions and reproaches'.[2]
The story comes not from a malicious pagan but from a monk and bishop of Helenopolis in Bithynia, Palladius, also a good friend of St John Chrysostom. In his famous Lausiac History, an important source on ancient monasticism which as a whole 'closely approximates the true story' (Kraft), Bishop Palladius speaks of the girl who was shunned by all the clergy so as not to provoke gossiping.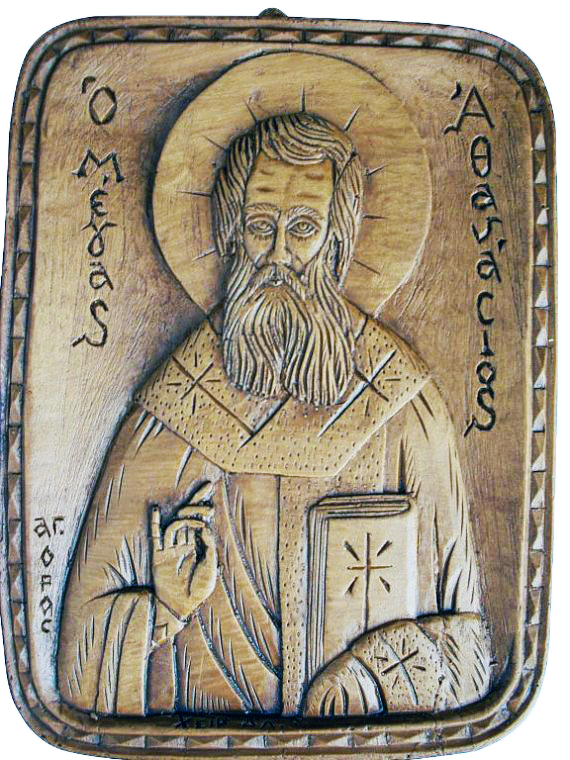 St. Athanasius
But it was different with Athanasius. Suddenly approached by the minions in his palace, he took 'dresses and mantle and fled in the middle of the night to this maid'. She welcomed him kindly, but also fearful 'in view of the circumstances'. But the saint reassured her. He had fled only because of a 'supposed crime', so as not to be considered a fool 'and not to sink those who want to condemn me to sin'.[3]
How considerate! And since the assault on his cathedral had cost wounded and dead, his new flight had been censored even by friends and ridiculed by his enemies. He defended himself with references to biblical celebrities inspired by God who, like him, had escaped: Jacob from Esau, Moses from Pharaoh, David from Saul, etc. 'For it is the same to kill oneself as to give oneself to your enemies to be killed'.
Athanasius always managed to justify his actions. He knew that running away was the right thing to do at that moment, 'to worry about the persecutors so that their fury does not claim blood and they become guilty'. This man did not think about his own life when he left his people abandoned to fate, as well as many brave generals in battle.[4] To censure him would be ingratitude to God, disobedience to his commandments. He could also take advantage of the flight to announce the Gospel while he flees. Even the Lord, writes Athanasius, 'hid and fled'. 'Who do we have to obey? To the words of the Lord or to gossip?' [5]
Of course, not everyone who runs away finds shelter with a beautiful woman of twenty years. Athanasius had luck or grace:
God showed me tonight: 'Only with her can you save yourself'. Full of joy she left all her scruples and gave herelf completely to the Lord.
Well said!
Apparently, she hid the holiest man for six years, while Constantius lived. She washed his feet, got rid of his waste, took care of everything he needed…
It is sticking to learn about Athanasius' great sanctity at the same time as his long shelter with the young woman: a timeframe that is also confirmed by other sources. However, today it is assumed, in favour of the saint, that he stayed with that beauty 'only transiently' (Tetz), an elastic concept. The coexistence of a cleric with a maiden consecrated to God, a gyná syneísaktos or 'spiritual wife', was widespread in the 3rd and 4th centuries, and even included the closest community: that of the bed. However, naturally, Athanasius was above suspicion.
I took refuge in her [he defends himself] because she is very beautiful and young [!]. Thus I have won twice: her salvation because I have helped her, and my reputation.
Some men are always immaculate. In our century,[6] the man who would later be Pope Pius XII took, when he was 41-years-old, as a companion a nun of twenty-three until he died.[7]
_______________
Note of the translator: The footnotes still lack the general bibliography, which will be ready as I finish the abridgement of this first volume.
[1] Note of the Ed.: This refers to the previous page, about Athanasius' return to his town in the year 346, that does not appear in this abridged translation.
[2] Pallad, hist. Laus. c. 63.
[3] Ibid. Kraft, Kirchenväter Lexikon 404 f. LThK 1st ed. VII 896 f. Altaner 188 f.
[4] Note of the Ed.: See note 1 above.
[5] Cf. Tetz 172 f.
[6] Note of the Ed.: Deschner published Vol. I in 1986.
[7] Pallad, hist. Laus. c. 63. Tetz 171. Vööbus, Entdeckung 36, esp. 40. Deschner, Das Kreuz 182 f. The same, Heilsgeschichte II 21 f.