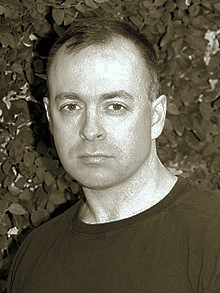 Recently Greg Johnson interviewed Vox Day (real name: Theodore Beale) about Beale's most recent book, Cuckservative, coauthored with J.R. Eagle.
Beale is a Christian and, commenting about the high priests of the mainstream churches, said: "They are not Christian" and added "True Christianity, the Christianity that exploded in the lands that became Christendom, is on your side" (emphasis in Beale's voice).
By the end of the interview Beale said that he wishes the best luck to the Nigerians in Africa. In spite of the fact that he was speaking of mass, non-white deportation from the West he wants it to be carried away bloodlessly, according to elemental "human decency" and Johnson agreed. Beale also said that he wants "none of the old Nazi rhetoric about fleas" referring to the human parasites that invaded Germany (Jews). He and Johnson want deportation according to a Christian sense of decency: "They are all human; they are all worth of human respect." Both interviewer and interviewee expressed their concerns to avoid a "horrific Third World War" and that "We can avoid this."
Johnson and the writer who goes under the penname of Vox Day thus ignore the laws of history. As the pendulum of western axiology has swung to the extreme yin, presently is coming back with extremely Yang vengeance. Compare their pious BS with The Turner Diaries climax or with what I said in the introduction of my most recent book about the need to exterminate the human Neanderthals (English translation of the first draft pages: here). Pay special attention to what I say about exterminable 3rd worlders in order to terminate animal torture (something that can also be said about other "humans," including quite a few whites).
Beale and Johnson, of course, are a Christian and a neo-Christian respectively—archetypical feminized Western males. I have explained "neochristianity" in The Fair Race's Darkest Hour and have exposed Johnson's neochristianity many times in the main site. Here I must take issue with Beale's statement that "true Christianity, the Christianity that exploded in the lands that became Christendom, is on your side," referring to white nationalists.
Like every Christian racialist, Beale is altogether ignorant about the history of our parents' religion. Many times I have said that Christianity made its historical debut by committing "the sin against the holy ghost," mestization. Universalism was in the DNA of its very foundational city, Constantinople; and since the days of Constantine mainstream Christianity has never been on the side of the Aryan race qua Aryan race. The Old Church started with universalism ("Catholicism" comes from Greek katholikismos, "universal doctrine") and universalism itself, amalgamated with out-group altruism, is killing the latter-day Aryans in what remains of Christendom.
Over the forums the Christians have replied that miscegenation started in pagan Roman. Very true: but they fail to acknowledge that our parents' religion made things much worse not only in Constantinople but in Rome itself. As a TOO commenter once said: "Until Whites get rid of universal morality they will be forever lost."
Johnson and Beale fancy themselves as a race-wise breed morally superior to those Germans when my parents were children. The truth is that American White Nationalism represents a giant step backwards from German National Socialism. If Fox News hosts are the cuckservatives of the white nationalists, "New Right" racialists like Johnson and Beale are the cuckservatives of the national socialists. Let us repeat what we have said before:
Hearken White men!: The Aryan Race needs a religion of hate, not a religion of love!
Himmler himself advised us to get rid of universalist morality and considered the Churches "the enemies of the National Socialist worldview" because of "their doctrine of the equality of humanity" (see Der Reichsführer Heinrich Himmler's worldview in a single article here).