Excerpted from the chapter "My Own Spiritual Awakening"
of Nature's Eternal Religion by Ben Klassen: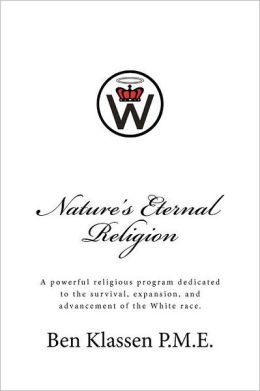 Now I began to realize that the whole basis of this age-old struggle was race. It was the Jewish race using all the weapons at its command, and it did have a huge arsenal to destroy, mongrelize and enslave the mongrelized product of the White Race.
At this time I had not yet suspected that their most powerful weapon of all was their skillful use of Christianity on the White Race.
I decided to form a new political party polarized around the issue of the White Race. This I did, and formed the Nationalist White Party.
I had the immediate hostility of the Birch Society, which did not at all surprise me. What did surprise me now was I found that the strongest opposition came not from the Jews (as I had expected) but from the Christians. Every time we would discuss the issue of race, somehow or other Christianity and Christian principles would crop up so that in the end we wound up in a hassle about religion rather than trying to get down to the basic issue of the struggle against the Jews. This despite the fact that I had taken a pro-Christian stand. Continually I was told that the Jews were God's chosen people; that the niggers, too, were God's creatures; that racial discrimination was un-Christian, that "our Savior" was a Jew, the bible said "I will curse them that curse thee, and bless them that bless thee," etc., etc.
This was a surprising new development. Whereas up to this time, I had regarded Christianity as something rather innocuous, and perhaps a time-consuming nuisance, it now suddenly hit me like a bolt out of the blue that Christianity was one of the most powerful weapons that the Jews had in their arsenal.
Now I began to study the bible all over again and particularly focused on the Sermon on the Mount. To my surprise I found that it contained nothing but real bad, suicidal advice.
Whereas before, I had heard and read all the bits and pieces of it, it had never occurred to me to examine what this kind of advice would do to a nation and to a race. Now I began to realize that such suicidal advice as "turn the other cheek," "love your enemies," "sell all that thou hast and give it to the poor," "judge not lest ye be judged," and "resist not evil," was real suicidal advice. I now dug deeper into it and I found that the so-called Apostles, as well as the man purported to be Christ himself, were all of Jewish origin. Strangely, though, they had never sold their suicidal ideas to the Jews—on the contrary, they had sold it to the greatest civilization of ancient times, namely the Romans.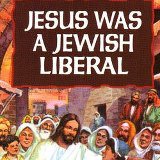 Then a lot of other things began to fall into place. Looking at Roman history it became clear to me that whereas Rome had established a great civilization, had conquered the world, was completely supreme, that when Christianity hit it like a plague, it began to crumble and fall apart. And after studying the underlying suicidal ideas that Christianity had perpetrated upon the Romans, I could easily understand why the Romans no longer cared to defend their Empire, nor to meet their earthly responsibilities. It became clear to me why the whole great White Empire disintegrated under the influence of this new Jewish poison.
I now felt like an excited detective who unexpectedly had stumbled on the greatest mystery, the most sinister conspiracy in the history of mankind. I began to look more and more towards the eternal laws of Nature for the solution. I began to study the Old and the New Testament with feverish and renewed interest. I studied the history of the races—the great White Race, the Jews, the niggers. I traced the rise and decline of civilizations. Like a detective, I began to feel that all the pieces, at last, were beginning to fall into place.
The more I dug into this, the more all the mosaic pieces began to fit together. I began to get a multitude of answers to questions that had eluded me throughout my life.
Studying Nature's laws, studying religions and studying history and adding this to the experiences of my own lifetime, I found that I had finally made a breakthrough. My search had been rewarded by a multitude of answers—including the big one—namely, what is our purpose in life. The more I studied the Jewish plague, Christianity, religion, and the laws of Nature, the more compelling the solution thrust itself upon me. I suddenly realized that I had achieved a devastating breakthrough that was sweeping in its implications, compelling in its simplicity, and so overwhelmingly obvious that I wondered why I hadn't seen the picture a long time ago.
It became abundantly clear to me that what the White Race needed was a completely new approach to the whole problem of extricating itself from the sinister Jewish conspiracy. And in order to get this new approach it seemed overwhelmingly clear that what the White Race really needed was a new religion, a new philosophy of life and a new Weltanschauung. It also occurred to me that my whole life experience had taught me and prepared me to do this fundamental job, namely, of formulating the new religion that was so necessary to the survival of the White Race. It also became overwhelmingly clear to me that to found a new party based on race while trying to coexist with Jewish Christianity was impossible. Every weapon that we needed in such a struggle was already undermined and neutralized by the basic concepts of Christianity itself.
I began to discuss my ideas with friends. I argued and debated with Christian preachers. To my further surprise, I found them completely at a loss to explain the numerous basic questions I threw at them, and usually they became hopelessly trapped in their own set of lies. I corresponded with former Kosher Konservative friends of mine and they, too, either conceded my position on Jews and Christianity, or were hopelessly driven to the wall.
It was then I decided to compile my creed into a book. I decided to formulate a new religion for the White Race that would lead it out of the quagmire of Jewish entrapment, out of despair and degradation, and into the bright light of greatness, to the heights of the wonderful destiny that Nature herself, in her great wisdom, had destined for this magnificent race.
_______________________
Chechar's note:
It's too late to form a new religion, but we could
at least follow Manu Rodríguez's wise advice.