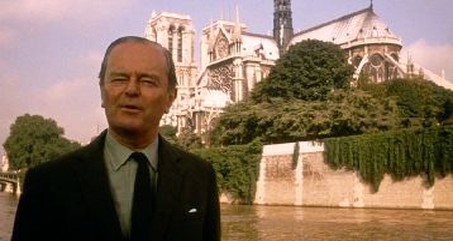 The evil that has possessed Western civilization—or perhaps should I write the word with "s," as the British do: civilisation?—after the Second World War is far more extended than what most white nationalists suspect, even in their wildest dreams. This evil even encompasses many aspects of our culture that white nationalists actively embrace: pop music, degenerate sexual mores, a Christianity taken to its logical conclusion through liberalism, and much, much more.
In the next entries I will try to argue this case through my comments to excerpts of Civilisation: A Personal View by Kenneth Clark (1903–1983), a television documentary series outlining the history of Western art, architecture and philosophy since the Dark Ages.
The series was produced by the BBC and aired in 1969. Both the television material and an accompanying book—a book that, incidentally, I purchased in Houston at the ridiculous price of 50¢ during a garage sell—were written by Clark (photo above), who also presented the series.
The series is considered to be a landmark in British Television's broadcasting of the visual arts, and was remastered and last year re-broadcasted in the United Kingdom.
Clark's series inspired both Jacob Bronowski and Carl Sagan to write scripts for their respective personal views, also in thirteen programs of television documentary series, as I said in my last post. However, unlike Bronowski and Sagan I definitively reject the naïve idea that science can save our civilization. I agree with Clark that, in this age of "heroic materialism" or worshiping of Mammon as he put it, we must review our classics to understand us (or as I would say, to understand the West's darkest hour: a mechanized, dehumanized and soulless age).
Only a revival of the white people's soul, not of science and technology, will save us.